Virtual learning will open the doors for people to access the best kind of education by blending the best of the real world, the best of the internet and online applications, and the best of the virtual world technology so that the most modern techniques are utilized to obtain that education. Training is poised for serious growth through transporting groups of learners to highly immersive experiences with a VR headset device. Medical residents can learn a new surgical procedure by observing in real time, welding students can become familiar with a dangerous job site before visiting, or high school students can hear a native foreign language speaker. VR is a whole new way to interact with knowledge and on pace to be an effective, engaging, low-cost instructional solution for a range of subjects and grade levels.
In the developing discipline of VR instruction and syllabus development, there is currently a lack of sources to turn to for implementing best practices or schoolroom standards. The world desperately needs teachers and organizations alike to become the standard developers and share that knowledge with others. Those who manage students know better than anyone what can work in a classroom. Confusingly, "VR" today is loosely defined by many types of videos and devices. Artists are using a swarm of technology solutions, coding languages and camera equipment to create experiences. But there are ways to find simplicity in the chaos.
Five key areas (and tools)
To help you create simple, impactful educational experiences, or to just start practicing with 360 virtual reality storytelling, here are five key areas and tools to decide on before starting with VR in your classroom.
1) Audience selection
Teachers must be disciplined when creating an experience to match the target age group, especially when seeking to blend in VR experiences with traditional classroom lesson planning. Create titles like "Ancient Middle East supplement for 8th-grade History Class" or "Cadaver dissection simulation for second-year Medical Residents." Whether you are posting your experience online for the first time or simply looking to try VR in your classroom, there are resources out there. These are great VR content curation sites for ideas and existing content to test: try Oculus Share store, "WEARVR for Kids", or Unimersiv.
2) Subject selection
VR is proving itself to be an effective instructional tool that can be integrated between the lecture and the actual lab. VR's greatest story-telling power is transporting empathy. It literary puts you behind the eyes of another person. There is no technological medium today that transfers empathy to the viewer like VR. Cinematic producers have already seen success with this "empathy" pitch using 1st person documentaries like Clouds over Sidra of a girl living in a refugee camp.
The hardest part of filming is knowing who you want your audience to be and where you want to take them. Do you want them to be a quarterback on a football field? Put the camera where the quarterback stands and hit record. Becoming a doctor, a CEO, miner, or archeologist is as simple as taking a camera and filming where that person works.
As a final note, game-based learning is destined to be huge, but creating a virtual reality game is anything but fast and simple. "Life-like capture" and the instructional VR route as outlined has its pros and cons, but most of all it is relatively inexpensive and easier to execute with a non-technical skillset. If you are still interested in producing interactive content but don't have the budget for a full-on game development, do check out platforms like Viar360.
3) Camera selection
Continuing down the recommended path of recording supplemental instructional VR experiences, there are a few 360 video cameras which stand above the rest. The ones that we would recommend are:

4) Platform selection
Now you have your Virtual Reality video recorded, and you are ready to share with your students! Creating a custom iPhone or Android app is impressive, but there are plenty of off the shelf options available to easily distribute to your learners.
Creating passive linear 360 VR experiences:
YouTube – YouTube supports uploading and playback of 360° spherical videos on computers in Chrome, Firefox, MS Edge, and Opera browsers. To upload a 360° video file, you'll need to modify the file with an app or script before uploading. You can also watch 360° videos on YouTube app.
LittlStar – Their custom player lets you fully explore 360-degree videos from your web browser or mobile device. Using their player, you can embed any immersive videos from our library into your website, which makes it easy to share from wherever you are.
Facebook – If the video was recorded with a 360 or spherical camera system that adds 360 metadata to the video file, then you can upload a 360 video the same way you'd upload any other video to a Page.
Creating interactive branched 360 VR experiences:
Viar360 – Viar360 is the most intuitive end-to-end solution for interactive 360 VR creation and distribution. It has drag-and-drop creation, cross-platform distribution, insightful analytics, and you don't need to know how to code to build interactive VR experiences.
Unity3D – Unity is a cross-platform game engine developed by Unity Technologies,[5] which is primarily used to develop video games and simulations for computers, consoles, and mobile devices.
5) VR Device selection
To experience VR, there are two main types of mobile headsets to choose – low-cost Google Cardboards or high-end devices like Samsung Gear VR and Google DayDream. Aside from the cost, the biggest trade-off you are making is comfort and build quality. To ensure the first experience with VR is a positive one, try your best to go with the premium solution as best you can. That recommendation is not to say that Google Cardboards are not an excellent value, and it could be said that Cardboards are the perfect tool for a small test. If you would like to buy a set for your classroom, you can order some at www.ViarBox.com.
Also, consider that the next generation of VR headsets coming to the market. Oculus Go ($199) is something you should keep your eye on as it comes out early 2018. Oculus Go is an all-in-one, 3DOF standalone headset with an orientation-tracked controller. This super lightweight headset was designed for ease-of-use, comfort, and accessibility. It also features built-in spatial audio to ensure users enjoy the complete experience, making the Oculus Go the easiest way to jump into VR.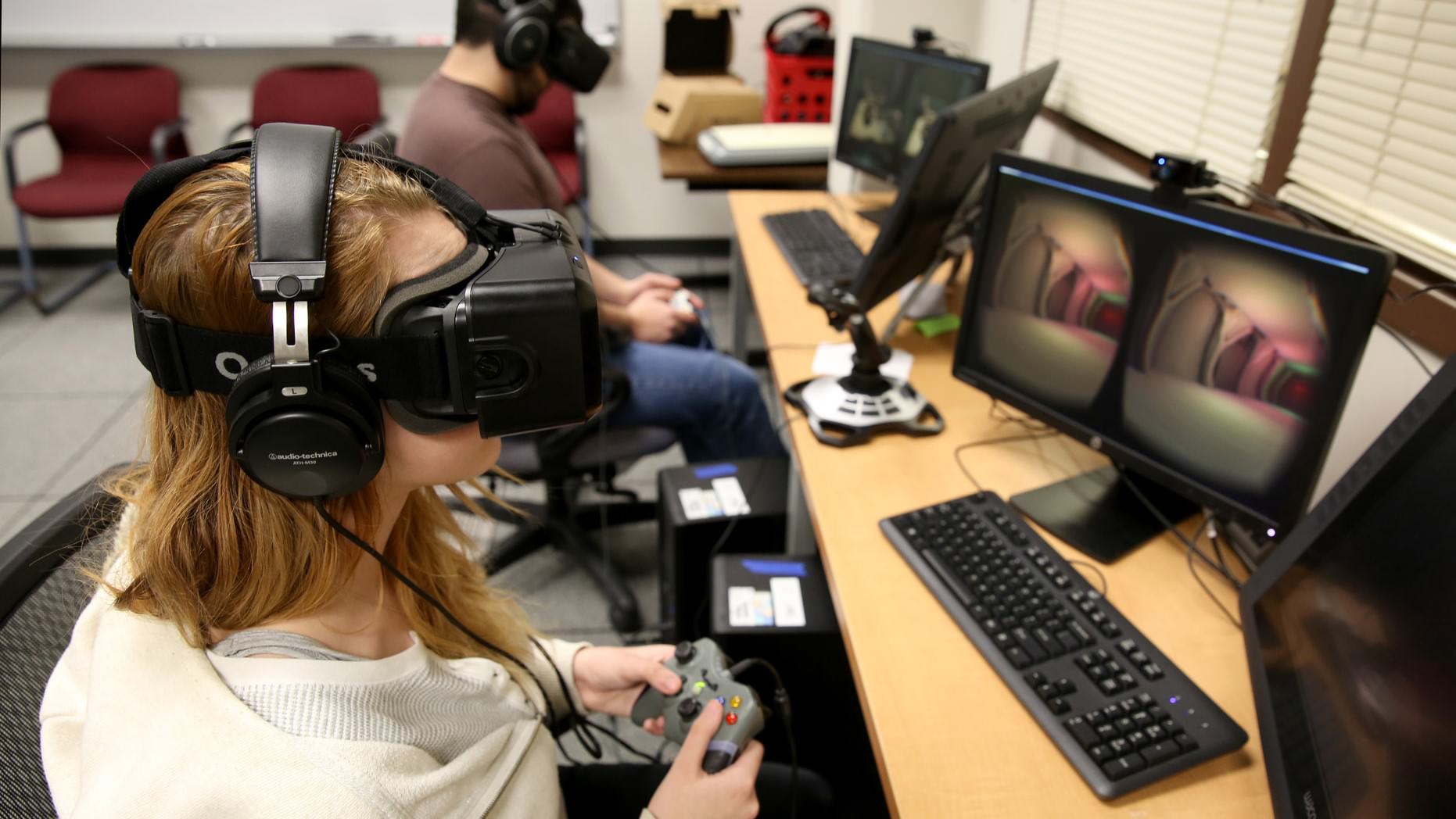 VR is here to stay
The practical applicability of virtual reality in education is a hotly discussed topic right now. A recent report produced by Horizon 2016, one of the most respected analytical groups, dedicates several pages to the question of using augmented and virtual reality in education. With more and more schools offering classes on this topic, VR is here to stay for sure.
What to know more about how to get started with VR in education? Be sure to also check out San Jose State's resource page 360news.today.