The whole premise of Viar360 is the ease and speed on how to create Virtual Reality experiences in Cinematic VR. It's never been so easy to make the 360 world interactive. Viar360 uses hotspots to upgrade a passive 360 video or image into an amazing VR experience. Hotspots are a sort of trigger points that enables some sort of functionality. At VIAR we keep on updating new features and adding new functionality to the old ones as well.
Let's go through the Viar360 current hotspots and get to know them and it's functionalities:
---
Start your free trial of Viar360!
---
Create Transition Hotspots
The transitional hotspots connect the current media file to the one you decide. While you're in edit mode, you can choose which media you'd like to connect it to. The second way how you can connect different media points is to just assign one or more transitional hotspots in the media file and then go back to the storyboard. You'll notice white tabs next to your media file with the names of your hotspots.
These hotspots are transitional hotspots and you can connect them to the entry points of other media files. Once you made all your transitions, don't forget to click Refresh to save the relationships between the media files. Storyboard in Virtual Reality Transitional Hotspots gives you a lot of storytelling power. Use them to create options for your viewers. Do you remember those "Choose Your Own Adventure" books?
Create Info Hotspots
Create Info is one of the most versatile hotspots on the Viar360 platform. The info hotspot lets you include plain text, links, email accounts or embed pictures or videos or any kind of other HTML element. Yes, it leverages the power of HTML5. This means that you can pull of code from other website and embed it into your VR Experience. Use it to include your e-commerce links, bring the viewers to your social media channels or lead them to your opt-in form.
How to use info HotSpot?
Double click on the media file and choose the Create Info hotspot. For example, I want to lead people who see my VR story to my Facebook page.
I can go to Facebook Plugin website and find my Facebook page I want to include. Then I'll click on the Get Code and copy the iframe code from the iframe tab section. In Create Info hotspot choose the code icon on the toolbar (</>).
Copy the iframe code and click apply. Your Facebook plugin should appear when you preview it. And voila! Here's the Facebook Like box!
POV Hotspots
The POV hotspots let you set the point-of-view of your media file. In different words, it lets you orients the starting position in your media. Often times you'd like to orient your viewer to the specific point of interest as soon as they start the story or enter a new section of the story. POV hotspot lets you do that with ease.
Simply double tap on the point of media where you want to set the focus on and click on the POV hotspot. Don't worry the HotSpot will be visible in the production end only. Test it out in the preview mode.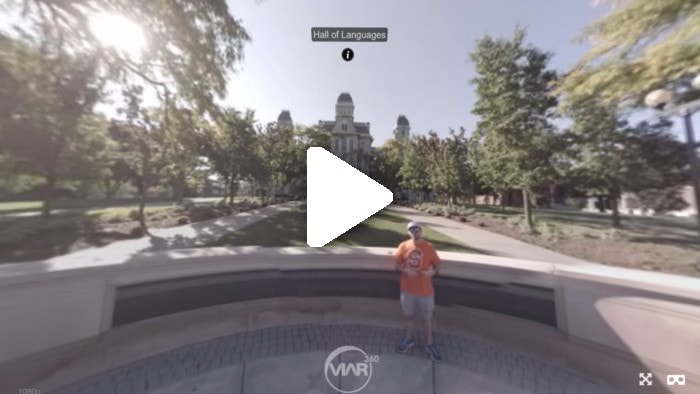 Enable Video Loop and Disable Video Auto-play
In Video media files you can choose how the videos are going to play. If you'd like your video to loop continually double click on the media canvas and click enable video loop hotspot. If you'd like for the viewer to start the video, then choose Disable Video Autoplay hotspot. This can be useful if you're having the story embedded in your website and you don't want it to play immediately.
Create Audio Background HotSpot
Sometimes you'll want to add music or some pre-recorded audio recording. Here's how you do it. Get into the edit mode of a media file. Double click on the canvas – doesn't matter where, since the sound will play automatically. Once you've selected the background hotspot, you can upload and apply settings to the audio track. Choose whether it should loop and at what time would you like it to start playing. You can apply only one background hotspot.
UPDATE: While you are reading this, new hotspots and functionality has been added to the platform. You can now add 3d objects (whaaaaat!), spatial audio, galleries and customize every single hotspots as you want it.
Try them all when you sign up for a free account.