Dear friends. Troubling times lay head. Many of us are facing emergency measures being put in place due to the COVID-19 outbreak. Companies are now quickly adopting remote work to prevent the spread of the virus. Sadly that means that live training has become a luxury. With that in mind, we decided to release an extremely valuable feature on Viar360 – remote multiuser synchronized viewing in virtual reality. This means you can now host live group VR sessions and guide trainees through immersive training scenarios designed with Viar360. It puts you in control and gives your viewers the best experience possible.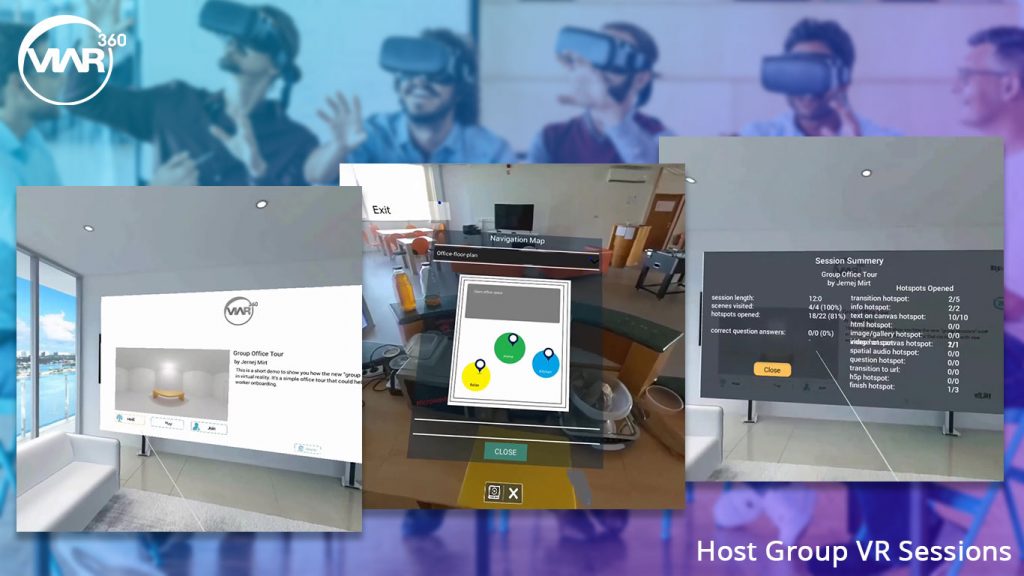 What do you mean with group sessions?
Well, this means that multiple people can view the same VR experience together. One person is the host, the rest are viewers. The host guides the viewers through an experience created with Viar360. The host and the viewers don't need to be on the same network. They can connect to each other from anywhere.
Where can I use this?
Group sessions are a great tool where you want to provide some initial training to people who can't be on location. Let say you want to onboard a group of new employees that currently can't come to the place of training. You can use a 360 camera to record the location. From the recordings you make, you can create a VR experience with Viar360. Once that's done you can host a group session in the experience you created. The trainees can then still go on their own through the experience if they would like to. Some other useful use cases are:
Immersive sales training – host virtual roleplays with a group of people;
Customer support sessions – show the DOs and DONTs of working with difficult customers;
Group technical training – demo common technical issues and how to resolve them;
Project updates – show progress on your projects to stakeholders at different locations.
These are just some of the examples. Group sessions with Viar360 may help with many others. Below you can see a recorded demo of such an experience.
How can I try this?
Hosting group VR sessions with Viar360 is quite straightforward:
Log into your Viar360 account or create one if you haven't already.
Then create a training scenario:

Upload some 360-degree media files to your Media Library / 360 Library.
Go under Virtual and click on "Create new story" to start with a new training scenario.
After filling out the initial form you'll see your project screen. Click on "Add scene" to add the 360-degree media files you uploaded to you 360 Library (you can add several scenes and connect them through interactions in the editor).
Click on the "Publish" button to publish the story.

Add other people who need to join the session.
Assign the created content to them.
Install the Viar360 Oculus app.
Download assigned content.
Host a session OR join a hosted session.
There are some limitations as hosting group VR sessions is a feature that's still being refined:
It is available only for Oculus GO and Oculus Quest devices for now;
Host controls all the interactions. The host can not be replaced without ending the session;
It's being rolled out as a "beta" feature. This means the core functionalities work well, but we're still refining some details.
The feature is freely available to all customers and trial users of Viar360. We welcome any feedback and hope this will make learning and development in these difficult times a bit easier.
---
Watch the full webinar recording