From action cameras and drones, the spotlight has now shifted to 360 cameras. Why is this type of camera a must-have? We give you five reasons to include a 360 camera to your collection.
The photography and videography world continues to evolve as the years' pass. Who would've thought that we'd go from taking grainy, monochromatic images and films to capturing vivid photos and videos of the world?
Among the latest equipment in the market, today are 360 cameras — tiny, portable technology that lets users take 360-degree images and videos. Cool, right? Now, we're another step closer to experiencing virtual reality (VR).
If this is the first time you've heard of this small-scale wonder, let us tell you why a 360 camera should be the next equipment you invest in.
The 360-degree camera offers a whole new experience
The experience a 360 camera can give you differs greatly from what action cameras, drones, and even wide-angle lens cameras have to offer. By using a 360 camera, you'll be closer to capturing the entire experience along with a whole view of the area you're in. It's like taking your viewers where you are and letting them see what you see.
You can take it anywhere
Many 360 cameras today are small and light, so they're very portable. It's the perfect companion whenever you go on vacations because it's neither bulky nor heavy, unlike DSLRs. Although you will need a monopod to use it properly, it's nothing compared to bringing along huge lenses.
You can connect it to your phone
Similar to most action cameras and recent models of DSLRs and mirrorless cameras, 360 cameras connects to smartphones easily through Wi-Fi or Bluetooth. This makes transferring, editing and post-processing, and sharing on social media easier and faster. Imagine posting real-time, 360 degrees updates of your trip on Facebook and other sites that support VR videos and images!
What options are out there?
A lot of tech companies continue to release different models of 360 cameras because of their rising popularity. Today, there are a lot to choose from, and they vary in different ways — price, ergonomics, size, and appearance. You'll surely find one that fits your budget and needs well.
Don't forget to look up different brands of 360 cameras on the Internet. You can even read reviews from 360-camera users to see which is perfect for you.
They are easy to use
Many 360 cameras only require pushing a button or two for them to function. You can then control it using your smartphone. Admittedly, there are some that are quite complicated to set up. However, through proper research, you can easily avoid buying those models.
Having a 360 camera as one of your photography and/or videography equipment will surely help you take your hobby, passion, or work to the next level. You can use it any way you want and let your creativity run wild.
Virtual Reality
Virtual reality (VR) is not really new technology. It has been around for years, and it's typically used for a variety of purposes. For instance, in the aviation industry, pilots are trained without having to fly an actual aircraft. A simulated environment is created for them to test their skills and knowledge in different airborne situations.
In essence, this is what virtual reality is all about — a computer-generated 3D environment that lets you experience a different kind of reality.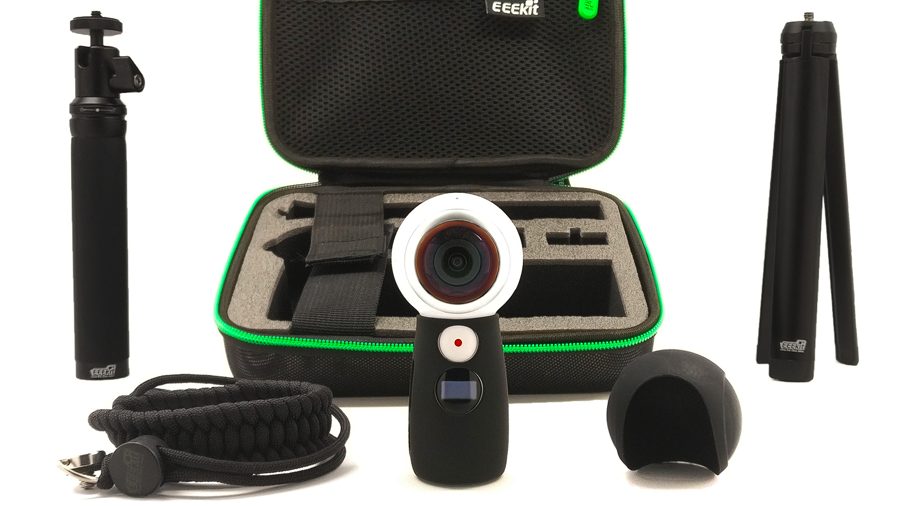 The recent years have shown incredible advancements in virtual reality. Today, you can find VR content in various platforms like games, apps, and social media.
Surely, you have a few questions on your mind about virtual reality. Let's answer them one by one so that you can have a better idea on the relevance of this technology to you.
How is VR beneficial to me?
A lot of companies have started investing in VR because of its huge potential. With virtual reality, they can create a 3D experience of their products or services; they can also utilize it for their marketing efforts. As a customer, this will give you not just a glimpse but a firsthand experience of what a product or service can do for you.
In gaming, VR could certainly provide a different kind of thrill for users. Another area where there is a high potential use for virtual reality is amusement parks. Just imagine how much more fun a ride could be with life-like elements here and there.
What's the difference between VR and AR?
Both virtual reality and augmented reality require hardware and software for the simulation of an environment. Here's the main difference, though: With VR, the location you're seeing is the computer-generated 3D landscape only. Everything is entirely virtual, and it doesn't overlap with the real world.
Meanwhile, AR creates a 3D or 2D environment that is superimposed onto the real world. This means that you could still see your real surroundings, and there is also a composite view of graphics and real objects. There is an overlap between the virtual and real worlds.
How much will VR cost me?
It's not a secret that full VR equipment is expensive. Nevertheless, you have other options that come at cheaper prices. There is actually a range of VR products that will suit any budget, and if you're into DIY projects, you can even build your own VR camera. This is pretty amazing especially if you want to learn how to produce your own VR content.
It may still be hard for an ordinary user to see the whole value of virtual reality. It might even come off as unnecessary. However, with all the consistent developments and with all the big companies investing in this technology, it definitely won't be long before we can finally see ourselves immersed in VR content.
Virtual reality surely sets the bar high, and it makes every virtual experience thousand times more fun. It is exciting to see how VR can impact our behavior with regards to technology.
Do you use 360 or VR cameras already? Why don't you start creating amazing interactive VR stories with Viar360? Start your free trial here.