Humans have been teaching their skills to each other since the dawn of time. And we've been getting better at it since then! However, the experience remains the best teacher. This is why our teachers are trying to get as close to it as possible through case studies and researches. Luckily, these past few years, our technology has advanced enough that we can incorporate the hands-on experience into our training. Using VR for training can bridge the gap between learning and doing which will improve the skills of professionals in many fields. Here are some virtual reality training examples for different areas and industries.
Gaining skills with the help of VR
Using virtual reality to learn skills is a perfect way to get basic training for skill. VR can help you better understand the topic by actually completing tasks in a simulation. What better way to learn than to do it yourself? So, using VR for training your vocational skills is not only very cheap but also extremely useful. Since it's mostly hands-on, it's hard to get enough information unless you're looking at it being done. With the help of today's technology, we can overcome this issue! Gaining new skills is definitely an important training example that VR can help wiht.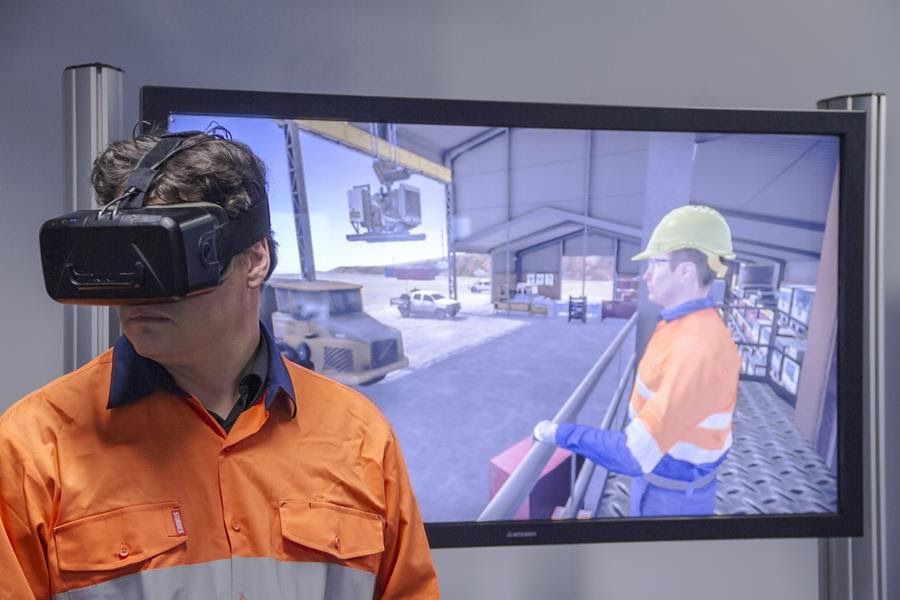 Education has lots of good training examples
Bridging the gap between learning and experience is very important in many professions. This is why there are more and more schools using VR to create a more immersive education for their students. Practicing this way is especially useful for institutions that teach some type of trade. This is because VR is a way to reach a huge number of people and teach them a specific thing. This way, it's easier to provide a better quality of training to as many people as possible. Many educational institutions use VR to help their students learn.
Safer training
The main reason why teaching through virtual reality will improve the training experience is that it's safer. There are a lot of things that can go wrong while you're learning how to use some machinery or during field training. It's easier to use VR for training until you're sure the person being trained can hold their own. In addition to this, you don't need to worry about the consequences of any mistakes you make, while you're still being fully engaged in your job. It trains you to confidently do your job. Finally, you can make sure your employees abide by all safety protocols! In a simulation, it's easy to block the progress until they put on their safety gloves and protective gear. Do that enough times in a simulation, and it will become a part of their routine.
VR for training a new generation of professionals
Companies like Walmart have already started using virtual reality to train employees. This hasn't been a rare occurrence in other large companies either. It is becoming a trend in big corporations, and there are a lot of reasons why!
VR is:
Easier to fix – using VR for training your employees will reduce the chance of a beginner's mistake costing you or your business.
Cheaper – no need to pay trainers or organize sessions. Your employees could practice through simulations before starting on the job. A one-time software purchase is much cheaper than paying for training sessions every year.
More efficient – this could free up the experienced assets you would usually use for training so you could use them elsewhere.
These are just some of the reasons why more and more companies have started using VR for teaching their employees. As you can see, the benefits outweigh the costs even now, and they will even more when the technology advances further! Virtual reality in corporate training is becoming a more common occurrence.
Law enforcement has plenty of VR training examples
With dangerous jobs like law enforcement, it's of great importance to training your professionals. Virtual reality is a cheap and safe solution for teaching anything from taking interviews to arresting a suspect. However, the most important aspect of VR for training law enforcement is that you could practice different scenarios in a safe environment. When you want to train tactics in a different environment, you can just change instead of creating a new room every time. This is why law enforcement is one of the top industries interested in VR!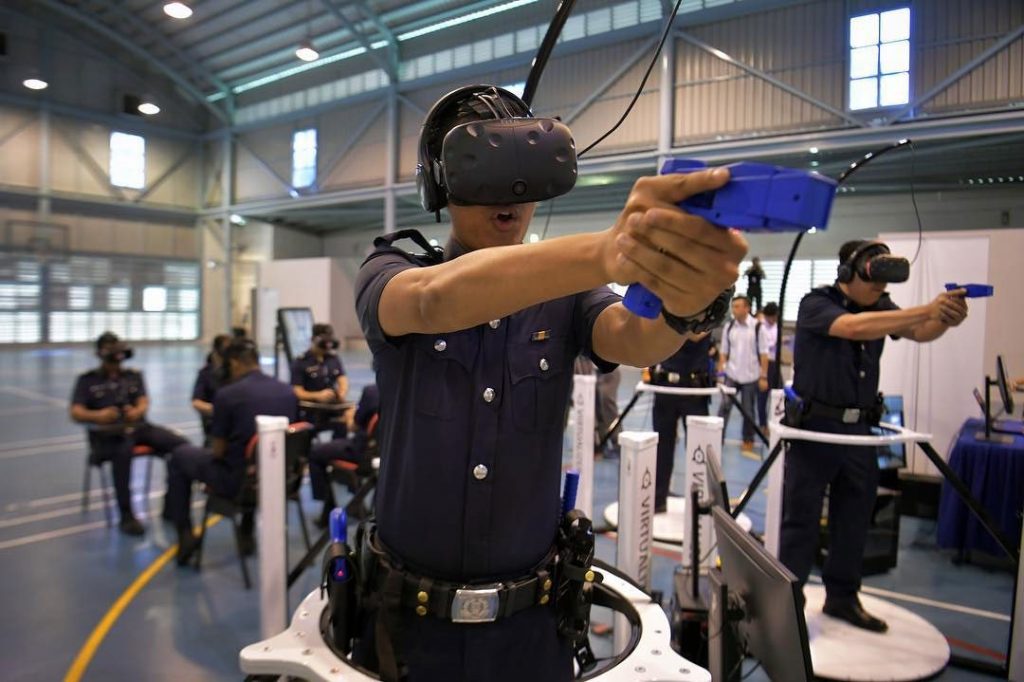 Firefighters also have plenty of VR training examples
Firefighters can also benefit from obtaining their skills with the help of virtual reality. Actually seeing the situation can help you when learning how to approach a burning building or which valves to release. It's safer and cheaper to use VR for training recruits as well.
No need to burn anything when you use virtual reality for training!
Fitness with the help of VR is a nice training example
You can use VR for training your body and staying fit. Just put on your virtual reality set and connect with your personal trainer anywhere in the world. Your trainer could go everywhere with you helping you to improve your form. There are other ways you can harness the power of VR to stay healthy and fit. Imagine looking at a breathtaking vista of Northern Finland while safely jogging on your treadmill at home. Or, if you need extra motivation for that last mile or two, imagine being chased by a monster while working out! All of this can be possible with a VR headset. Joking aside, you should be very careful when using VR goggles and using the treadmill, as it could lead to injury if not safely conducted. Use VR for improving your fitness workout!
As you can see, using VR for training your employees, students or for practicing yourself is a good idea. It's instructive, cheap, and you can do it in a safe environment. However, don't forget that although virtual reality can connect your learning and experience – it is not a substitute for the actual experience. Check out Viar360 to see how you can get started with VR.