How good was 2018 for VR?
In 2018 virtual reality (VR) hardware actually outperformed optimistic sales expectations last year. The research company SuperData Research reports that annual VR revenues in 2018 reached $3.6 billion — higher than the 2018 forecast of $3.3 billion. This represents a 30 percent year-over-year increase in revenues. According to SuperData's Q4 2018 XR market report, Sony's PlayStation VR became the market leader during the holiday quarter, selling 700,000 units — the largest number of headsets sold across any category. By contrast, the standalone Oculus Go sold 555,000 units, with the PC-tethered Oculus Rift and HTC Vive selling 160,000 and 130,000 headsets. PlayStation VR overtook Samsung Gear VR to become the market leader as consumers craved higher-end experiences in console, PC, and standalone headsets.
---
Bring VR training to your organization with Viar360 today!
---
VR Market forecast for 2019
For 2019, SuperData predicts that Oculus' next-generation standalone headset, Quest, will be a hit and forecasts sales of 1.3 million units, thanks to "high consumer interest." While Quest will have to hurdle a somewhat challenging $399 price point and waves of recent bad publicity for Oculus parent company Facebook, SuperData believes that hardware tethering has impeded consumer VR adoption, and Quest's better-than-Go performance will make it more compelling to consumers.
Games continue to be the key revenue driver for virtual reality, earning 43% of VR's $1.2B of software revenue. Enterprise space is also growing. In fact, companies such as Macy's, Lowe's, Walmart, and UPS, among others, have all launched new VR programs since 2017. And as more businesses look to tap the technology, this will drive enterprise VR hardware and software revenue to jump 587% to $5.5 billion in 2023, up from an estimated $800 million in 2018, according to Business Insider Intelligence estimates.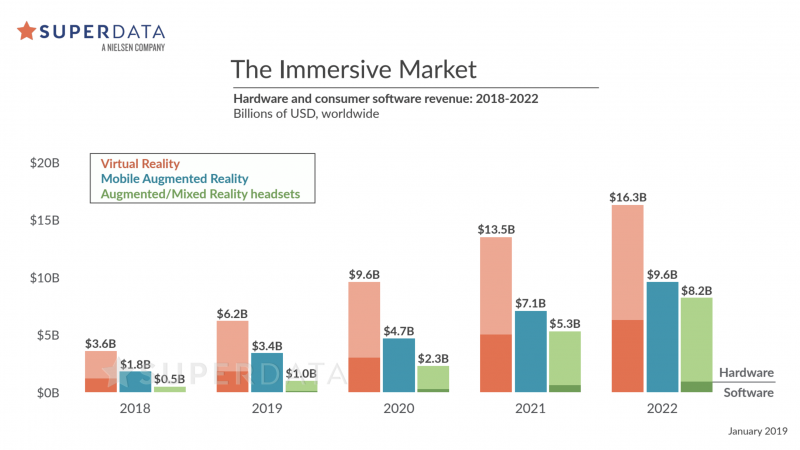 UPDATE
By some of the latest estimates 171 million people use VR worldwide in 2019.
Currently, you can choose between a multitude of models with varying price ranges and different features. Some +14 million of these are Head-Mounted Displays (HMDs).
Shipments of augmented reality and virtual reality (AR/VR) headsets will jump 54% to 8.9 million units worldwide this year. The annual growth rate will accelerate to 67% over the next four years with shipments reaching 68.6 million in 2023, per a forecast from International Data Corp. (IDC).
Dominic Mallinson, senior vice president of R&D at Sony, pointed out at Collision 2019 that Sony has sold 4.2 million PSVRs until this day. PSVR still has a lot of room to grow as there are over 96 million PlayStation 4s in the market today. And every single one of those is capable of delivering a great VR experience. During his presentation, Mallinson left the crowd with three big takeaways:

VR's impact is unlike any other media.
Rapid improvements in VR tech will further widen its appeal.
Great content is already here, but we need more.

Addressing shareholders during Facebook's Q2 2019 earnings call, CEO Mark Zuckerberg said that unit sales of Oculus Quest are exceeding the available supply of the headset. Following Zuckerberg's comments, Facebook CFO David Wehner overviewed the company's financial results for the second quarter, saying revenue in 'Payments & Other Fees' (which includes hardware products) was $262 million for the quarter (up 36%).