Manuel Gómez Navarro is a lecturer at Boise State University in the Department of World Languages where he teaches Spanish, Literature, and Culture. Last fall he attended an introductory VR workshop on campus. He was convinced the technology could have a powerful impact on some of his courses. The focus was on language learning and culture education.
The interview
What inspired you to start using VR with your curriculum?
The idea came from using Google Street View with students and having them explore Spanish cities in my classes. From there I thought – what if the students could have more information and more interactivity? Maybe videos, and even sound, from the 360 photos they are exploring? I then started doing some internet research and learned how popular virtual tours in real estate were becoming. Some of them had the interactivity I was looking for so I dedicated a lot of hours testing real estate virtual tour platforms, understanding how VR tours worked and rethinking how to use this technology to create virtual tours with a cultural, educational and language learning focus.
What was the response?
The students loved it! Not only for feeling more immersed in the experience, but they had literally the "whole picture." They were able to look in detail around them and have a more comprehensive understanding of the site. Some of them pointed out that it was an experience close to being there. After the exploration, the conversations with their classmates about what they viewed were vivid, eagerly asking for vocabulary to describe what they wanted to communicate.
What has been the most challenging aspect of incorporating this technology?
I spent hours researching a different kind of headsets, and suitable platforms to build virtual tours. I was looking for a web-based VR player (the ones in which you can activate hotspots, media, and links when you look to a specific point.) To my surprise, that is not very common. My goals were easy to access with a smartphone and interactivity. Finally, I found viar360.com, it has a drag-and-drop editor, very intuitive, and with the tools I needed.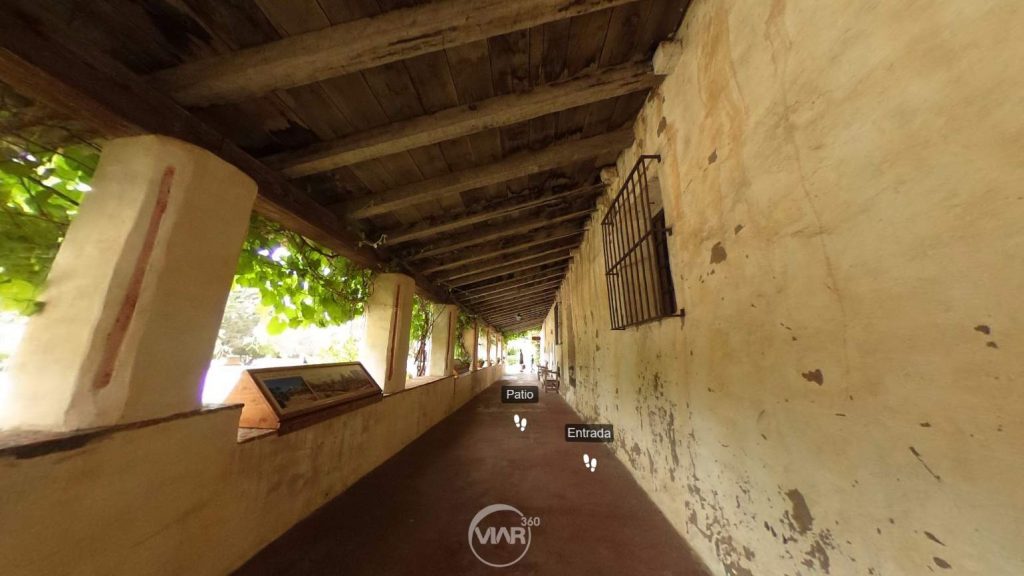 You've been creating your own content, tell us about that process.
First, according to the syllabus, I create a virtual tour about a monument or historic site. I explore it first on Google Street View (if I don't know the place). Then I decide what part of the site the students will explore in the VR tour. You don´t need to recreate the whole site. I create the virtual tour in viar360.com and look for suitable 360 photos online, or I upload my own. I connect the 360 photos with hotspots, frames with information, ambient sound or even videos to specific parts of the 360 photos in order to enrich the environment and make it more realistic. In some cases, I also insert questions to the students that encourage them to explore the tour in order to be able to find the answer. The creation takes days of planning, researching, designing and testing before I share with the students. The virtual tour is part of a teaching lesson, so there are activities related to the information they will learn about.
How do you feel immersive technology is (or will) change the language learning process? Can you speak to what you have seen in the year you've been using it?
On Humanities, I think it will help students relate better with the culture, have a deeper understanding, expose them to a more complete experience – close to "being there." This year, VR has been more and more present in education: Google has Expeditions, with an easy way for creating and showing VR journeys in the classroom. In higher education, there are interesting projects such as the Ulysses novel gamification. And also cultural projects that are in VR format can be incorporated into the classroom with no effort (like this one about the Spanish novel Don Quijote).
Start your free trial of Viar360!
---
Boise State University (BSU) is a public research university in Boise, Idaho. Boise State offers more than 100 graduate programs; including the MBA and MAcc programs in the College of Business and Economics; Masters and PhD programs in the Colleges of Engineering, Arts & Sciences, and Education; and the MPA program in the School of Public Service.
---
Originally posted on idahovirtualreality.com.