GoPro has finally introduced the upcoming GoPro Fusion camera. A 360-camera with a 5.2K resolution, for which they hope will bring immersive virtual reality recording to the masses. The Fusion represents GoPro's entrance into the spherical camera market. Reviews have confirmed that footage captured by the Fusion and presented on Samsung Gear VR headsets was clean and seamless. Notably, GoPro's software largely eliminated stitching between the twin lenses and deleted any trace of unsightly mounts.
General overview
The unit is fairly compact. The two lenses said to be the equivalent of six normal GoPro cameras, are offset on either side of the main chassis. The device is being positioned as a VR/consumer hybrid, capable of capturing spherical video that can be cropped to select whatever portion of the clip a user wants, in addition to VR. Each segment of the spherical video captured can be "punched out" into its own 1080p clip, ensuring users don't miss a thing. In that way, the GoPro Fusion is seen as something of a one-stop shop for sports camera needs, capable not only of VR but also ensuring nothing is missed. The device will also come with special software for editing, with the goal of making it easier for the average consumer to use the footage without being familiar with 360-degree video.
GoPro Fusion's Design
GoPro kept things fairly simple with Fusion's design. It's a square camera that's noticeably larger than the Hero 5, but it is roughly the same thickness and has a similar finish. GoPro retained the dual-tone gray color scheme and the grippy diagonal lines around the edges. As you'd expect, it also has the same two-button control system to keep things familiar and simple for existing users.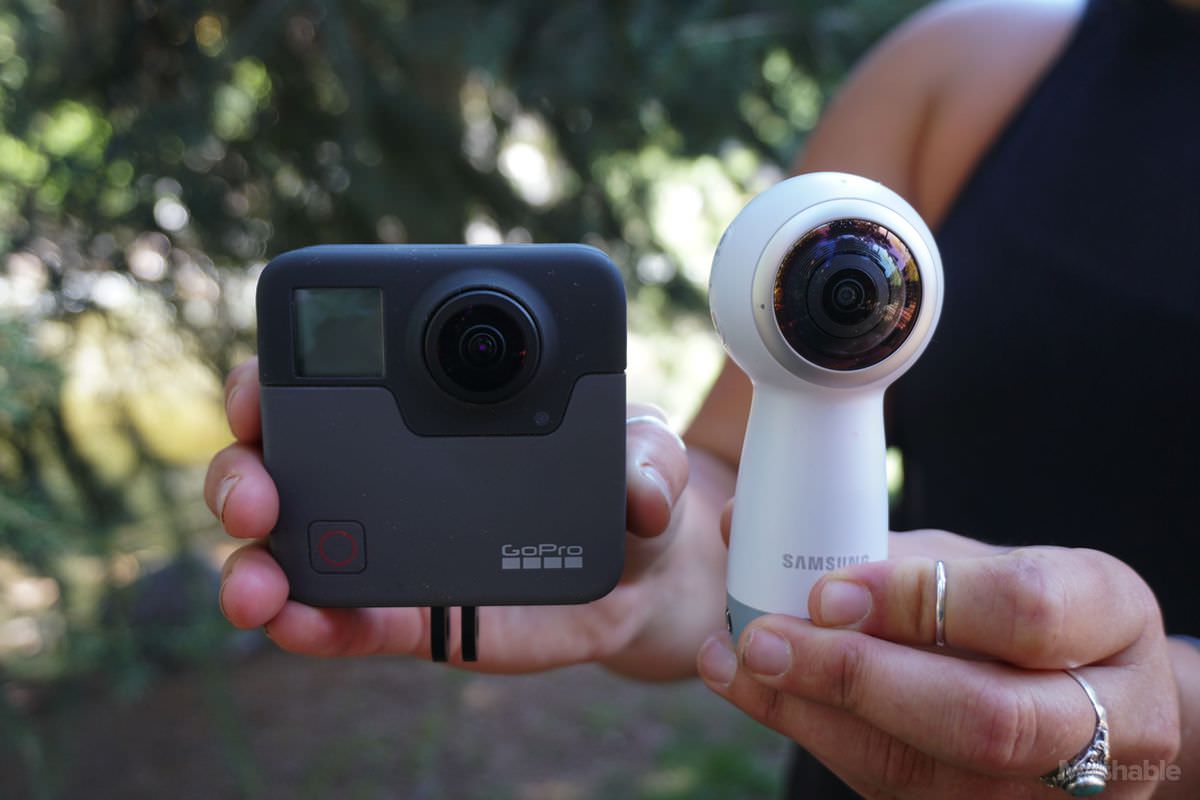 There's a camera on the front and the back of the Fusion, as well as the monochrome screen on the front which will show basic information during shooting. The one thing it doesn't have is a touch screen or viewfinder, but having one on a 360-degree system doesn't make any sense anyway.
Using the usual mounts, you can attach the Fusion to most of the existing selection of GoPro accessories, although due to its size, it obviously won't fit in the Karma mount. That means no drone flying for this gadget just yet.
GoPro Fusion's OverCapture feature
Being a 360-degree camera, the Fusion is equipped with two 180-degree lenses that capture everything all around the device. It shoots 5.2k video, and its sensors and optics should make this one of the best action cameras on the market. Strangely, it's not because its footage can be viewed in a VR headset like the Gear VR (as cool as that was). It's what it does to transform the 360-degree video into a flat video that anyone can watch.
With so many consumers using their phones to consume media on the go, GoPro decided it made sense to develop a way to transform its 360 captures into videos that look great on a flat screen. With 5.2k resolution and something called OverCapture, the company looks like they've cracked it. Using its OverCapture feature, you can choose to have a nice flat shot of one part of the action, or select a wider one, or even have a "tiny planet" like experience that shows all of the video. More importantly though, when editing the footage you can pan through select parts, or transition between the tiny planet and more traditional flat video scenes smoothly in one motion.
As an example, you could have the Fusion set up on a tripod, completely still and have a bike or dog run past it, and in the edit, you can follow that action almost as if you were moving a regular single video camera. So when you go to show your friends or watch it back on a TV, you don't miss any of the important action. As you're watching it back, it looks as the camera itself was being moved, but it isn't. It's all in the Over Capture technology and the way it can switch, transition and edit.
Pricing & Release date
We don't know how much it will cost, or precisely when it will ship, though GoPro pledges to launch the Fusion in some capacity before the end of this year. A pilot program will also debut before August for GoPro's sports and film partners.