The Virtual Reality train is accelerating and if you haven't caught the bug yet, you'll miss out on a lot of cool things. The industry is gaining so much momentum it's impossible to neglect the possibilities. Now that billion-dollar-headsets hit the market you have no excuses to scratch the VR curiosity itch.
When we've first done the research about the major players in Virtual Reality, we've found the expected bunch of heavy hits – the Palmer Luckeys and Tony Parisis of VR. So we've made a men only list. What a mistake! However, since then we've started researching deeper, and a lot of female names have been popping out. Actually, because media is so inclined to boast male creations, the ink is drained when they get to women.
Because AR and VR is such a young technology, women have been able to participate in it from the start. There are a lot of activists and organizations that support and encourage women to join the VR circles, for example the Women in VR platform. Jacki Morie, a VR scientist at NASA, has researched the creative VR experiences between 1985 and 2007 where as much as 70 % of those creators were women.
​
So here is a list (in no particular order) of some of the most innovative, creative and capable people alive! We sincerely apologize is we left anyone out. Be assured – there is so much talent out there that we are bound to create another list soon!
---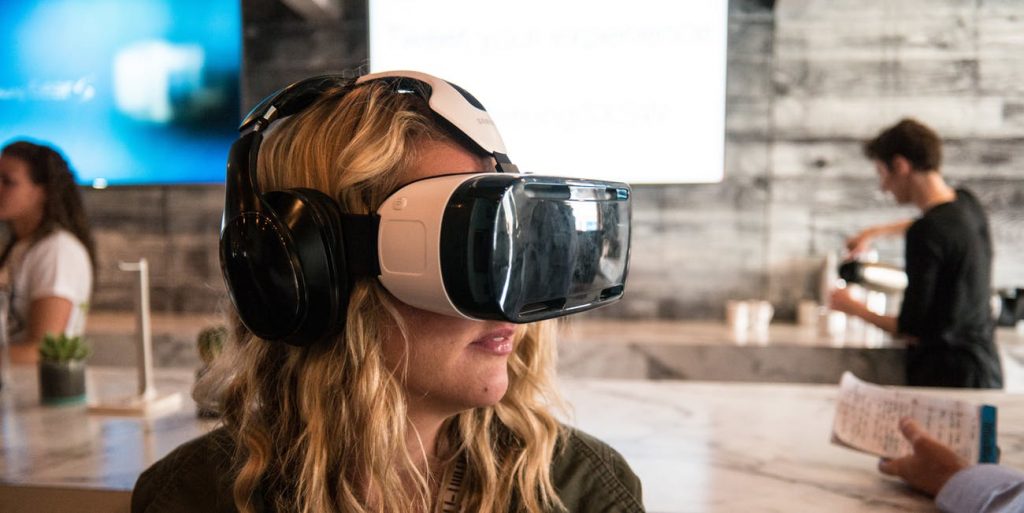 Bring VR training to your organization with Viar360 today!
---
1) Liv Erickson – VR/AR developer evangelist at High Fidelity
@misslivirose As soon as Liv saw The Matrix she was sold. It's tough to say what Liv1 isn't in VR industry. Beside working as a developer at High Fidelity, she's also a co-organizer at ARVR Academy, teacher and a Startup Mentor and a Host at Just A/VR Show. She's doing quite a lot of public speaking gigs at conferences, so you have a good chance to see here somewhere around Silicon Valley. Make sure, to bookmark her personal blog as well. "The Matrix is my office"
2) Helen Situ – Product Marketing at NextVR and Creator of Virtual Reality Pop
If we are speaking about VR evangelists, Helen should be on the top of the list. Working as a Marketing Manager at NextVR, she spends a ton of time flying around the world to personally show business leaders their first virtual reality experience. The team at NextVR did the first live streamed NBA using VR cameras: Golden State Warriors vs New Orleans Pelicans. NextVR is going to continue bringing new experiences to sports fans including fans of NHL, NASCAR, Soccer etc… Does this mean you will be able to see every game from your coach court side? Something like that.
"Revolution will be live-streamed"
3) Jacki Morie, PhD – Owner/CEO at All These Worlds (NASA)
@skydeas1 This lady has been creating Virtual Reality experiences before Palmer Luckey was even born. Dr. Morie's career has focussed on making VR experiences more emotionally evocative. As part of that work, she invented a scent-release device to bring the emotional power of scents to VR.
​
Jacki is a frequent speaker on VR topics especially its applications in health, training and social. She has more than 20 years of extensive knowledge in building immersive VR environments. She was also responsible for designing the first combined technical and artistic year long training program for incoming computer animators at Walt Disney Feature Animation and is currently teaching VR classes at Otis College of Art and Design.
4) Christine Cattano – Co-founder and Global Head of VR, Executive Producer at Framestore VR Studio
Framestore is a studio which makes visual effects for movies and commercials. But lately, it's been mainly a pioneering VR innovator. Executive Producer Christine Cattano is responsible for the following immersive experiences:
– Warner Brothers "Fantastic Beasts & Where to Find Them" VR
– HBO's Game of Thrones "Ascend the Wall"
– Paramount's "Interstellar"
– Marvel's "Avengers"
– Merrell's "Trailscape"
– Volvo's "Volvo Reality"
She's a highly driven woman, who sets the bar higher for each of her projects. She understands the medium of VR perfectly, and knows how to convince her clients to let her make her own decisions. All of her hard work is worth it, as nearly all of her productions have won awards for innovation and creativity.
Here's an interview with her and it's definitely worth checking it out.
5) Dr. Helen Papagiannis – Augmented Reality Specialist
@ARstories Helen is another super smart woman with extensive track record – more than 12 years – in AR industry. She was featured in a book "Augmented Reality: An Emerging Media Technologies to AR" in 2013. Rather than technical details, Helen went deep into the power of storytelling with this new medium.
​
Currently she is finishing her new book "Augmented Human: How Technology is Shaping the New Reality", that's coming out in July, 2017.
6) Nonny de la Peña – VR journalist and CEO of Emblematic
Nonny de la Peña has been a journalist for her whole life. She has always been compelled to make stories that can make a difference and inspire people. She worked in print, documentary and broadcast. Until she found out about VR about 6 years ago.
Her VR career started with a journalistic project called "Hunger in LA". In 2012 she and her intern Michaela Kobsa-Mark recorded audio at food banks many hours until a day where a man waiting in the long line who had diabetes didn't get food in time. His blood sugar dropped too low, and he collapsed into a diabetic coma. As soon as I heard that audio and responses of other people on the scene, she knew that would be the kind of evocative piece that could really describe what was going on at food banks. She reproduced the scene in virtual world, investing her own money and present it at the 2012 Sundance Film Festival. The emotional force of being present made audience members try to touch non-existent characters and many cried at the conclusion of the piece. She was onto something.
Today Nonny is widely known as the godmother of VR. You don't get a nickname like that for nothing. Her dedication to VR is unwavering. She once said: " Sometimes I wanna shoot myself in the head that I can't do anything else because it just motivates me. Virtual Reality drives me. This is such a visceral empathy generator."
Together with her brother, Nonny runs Emblematic Group – a company focused on VR Hardware and content in Los Angeles. Maybe it's worth mentioning that Palmer Luckey (founder of Oculus) was his intern. The godmother is a true pioneer of VR and she's finally getting recognition these days where the explosion of VR projects is the spotlight of the tech world.
Fast Company calls tagged Nonny as "One of the People Who Made the World More Creative"
Also, check out this awesome TED TALK.
7) Suzanne Leibrick – VR Storyteller, Co-founder of ARVR Academy, VR Artist
Suzanne Leibrick truly is amazing. She's like a Swiss army knife of AR/VR developing. She knows how to do anything from code to stop motion animation, from VR production to computer painting. She passes on her knowledge for free at ARVR Academy – a nonprofit organization which provides education in VR/AR industries. They mainly focus on educating communities which are underrepresented in the tech industry. She's also a UDACITY course developer, where she teaches 360 Storytelling and Immersive media. She's also very active in the Indie VR community.
On her website, she says that her motivation has always been story, regardless of medium. If you'd like find out more about her work or look at her portfolio, check it out.
8) Maria Korolov – Freelance Technology Writer, Editor and Publisher at Hypergrid Business
@MariaKorolov ​ Maria wears many hats. Besides being a cybersecurity expert, she is the president and founder of Women in Virtual Reality – a networking and advocacy organization with a mission of increasing the visibility of women in virtual reality and attracting more women to the field.
She's also an editor and publisher at Hypergrid Business – the leading publication covering OpenSim, which is a fully peer-to-peer, completely distributed, infinitely scalable, hyperlinked virtual reality platform. OpenSim is open source, supports Oculus Rift, allows in-world content creations, and lets avatars teleport between different worlds, and send messages and content between worlds.
9) Crista Lopes – Professor of Informatics, OpenSimulator core developer, founder of Encitra
Cristina Videira Lopes is a Professor of Informatics at the University of California, Irvine. She's another technological superwoman, and if you read her bio, you'll stare, awestruck, to all of her achievements. She was one of the founders of the Xerox PARC team that developed Aspect-Oriented Programming. She claims to be the only person in the world who is both an ACM Distinguished Scientist and Ohloh Kudos Rank 9.
Lately, she's been focusing on her work for OpenSimulator – "an open source multi-platform, multi-user 3D application server. It can be used to create a virtual environment (or world) which can be accessed through a variety of clients, on multiple protocols. It also has an optional facility (the Hypergrid) to allow users to visit other OpenSimulator installations across the web from their 'home' OpenSimulator installation. In this way, it is the basis of a nascent distributed Metaverse." She's the platform's core developer and one of its main architects.
She is also a founder of Encitra, a company specializing in online virtual reality for early-stage sustainable urban redevelopment projects.
10) Yuka Kojima – game developer, CEO at Fove Inc.
We never managed to find out how this Psychology Bachelor started working with Sony Computer Entertainment Japan as a game developer. But she did, probably with her incredible talent. She worked on games for Playstation 3, but left Sony after discovering her love for VR.
Yuka Kojima co-funded Fove Inc. – the company who made the VR headset with complete eye-tracking technology. It's not a completely new technology, but Fove was the first company that reduced its price to consumer-friendly levels. The Fove project launched last May on Kickstarter, and raised almost half a million dollars. First pre-orders have shipped in the beginning of January, and the customer reviews so far have been excellent. She is still the company's CEO and had recently been on the cover of Japan's Forbes magazine in an issue about the world's 100 most powerful women.
She also enjoys writing graphic novels, and has worked in many projects in this field over the years.
11) Jeri Ellsworth – AR Game Development and Co-founder of CastAR
Jeri Ellsworth has been in the tech field for the most of her life. In the 90's, she opened her first computer store, which had soon turned in a chain of five. When the computer marked crashed, she taught herself chip design. She created a joystick which contained a chip with 30 retro video games on it. It was a viral hit and I put her on the map.
Later, she started experimenting with new ways of gaming, and eventually landed in AR. The company she worked for at the moment didn't want to fund her project, so she and a business partner created a new company, called CastAR.
CastAR is still a company which specialises in tabletop games for mixed reality. The technology is still in development, but it will be able to create a hologram-like experience. They've received both funding from investing companies and via Kickstarter. The CastAR project more than doubled its goal of $400,000 and had raised over $1 million.

Here's an interview with Jeri Ellsworth.
​
And Jeri, if you're reading this, please hurry up, we want to play a round of Adventure Time's Card Wars!
12) Timoni West | Principal designer at Unity Labs
Timoni leads a design team at Authoring Tools Group in Unity Labs and working on the future of immersive creation. She's responsible for interfaces for new applications and tools in VR for VR. Her design portfolio is more than astonishing – senior designer at Flickr, Scribd, Foursquare and she's also a creative director at Department of Design in New York. Unity Labs certainly knew who to pick to be the spearhead of the design department.
Unity will soon let developers build games inside of VR itself. I can't imagine what a huge task it is to come up with a UX and UI capable of making this simple. Just imagine some fundamental issues:
How do you move around a space if the space is larger than the physical space you have available to you? How can you adapt the movement mechanic to move the user's camera forward? How do you do that without getting them sick?
​
Timoni demoed the VR Editor Tool on Vision Summit 2016
13) Paisley Smith – VR filmmaker and Co-founder of VirtualRealityGirls
Paisley Smith used to make good ol' 2D movies, her most recent one being about her family history in India. But after discovering VR, her life changed directions.
Now she makes animated films in VR. They are wholly immersive productions, taking on deep and striking social issues. She's produced Project Syria VR, which was selected for the 2015 Sundance Film Festival New Frontier.
It this feature, the viewer is immersed in a world of Syrian children who live in a war zone. It's received mixed reviews, but as she says – it's really difficult to acquire the right audience for her projects. VR animated film is a new medium, which is under a lot of pressure. People don't know how to behave in VR space, says Smith in an interview for Independent Magazine. "In VR we need to explain quickly and succinctly what the user can do and how they can do it, without detracting from the story. This has led to a lot of experimenting in the development of the project."
Her last project Taro's World is a story of Taro, an exchange student from Japan. It's an animated VR experience, which is based on a true story from Smith's life. It will be released via mobile VR, so if you don't have cardboard glasses for your movie critics team, be sure to get some.
14) Eva Hoerth – VR Evangelist, founder of We Make Realities and much more
Ever seen this video? Eva Hoerth became kind of famous for it. People thought she was making fun of her boyfriend, but she was actually recording her coworker for the future. She thinks that our grandchildren are going to laugh at the early attempts at VR, and hopes that headsets like ours will be replaced by holograms.
She worked as a Design Researcher alongside Tom Furness, the "Grandfather of VR", who has been working on virtual reality displays since the 1980's.
Now, she researches and shares design strategies for VR, organizes VR Meetups and hackathons that bring diversity to the industry.
She says, that as a VR Evangelist, she feels like she has a duty to share VR with the world, build stronger bonds within the VR community, inspire others and empower women in VR. You can read her ' VR Evangelist Manifesto' on her website.
15) Jenn Duong – Director of VR at 1215creative, co-founder of SH//FT
@jenndefer Jenn Duong works hard to fight prejudice and discrimination in future technologies. She's a big supporter of diversity and has cofunded SH//FT, an organization that supports equality and inclusion in future technologies. Organization offers education, help and scholarships, especially for women and minorities.
At her day job, she's the Director of VR at 1215creative, a company specializing in immersive experiences, VR and also traditional video production. Fun fact – they've worked for some really big-deal companies (like Google, Adidas, Jack Daniels' and Samsung) and yet they keep their website so simple we just had to share it.
Check out this interview with Jenn, where she talks about what's her inspiration for VR, her favourite VR artists and also Game of Thrones.
"Do not be afraid to experiment, and do not be afraid to fail. If we don't do projects because we're worried about the technology not being there or that what we are making isn't good, we failed automatically because we didn't even try. There is a lesson to be learned in every effort in VR. So if you have something you want to make, just do it. "
16) Elizabeth L. Reede – Co-founder and CEO of Boulevard
@ElizabethReede While waiting in line with his family to visit a well-known museum in Washington DC during a recent spring break, Rob Hamwee wondered if there was a way to visit this museum from his home? Through a mutual friend, he was introduced to Elizabeth L. Reede, a former curator at MoMA and investment banker. Together, Reede and Hamwee came up with the idea of bringing art, architecture, and culture to people around the world through virtual reality technology. Boulevard (fka WoofbertVR) was founded in 2013 and since its inception has raised over $5 million to make global culture virtually accessible.
Reede says that an increasing focus on the part of museums is reaching out to an expanding interested public and minimizing issues of accessibility, whether physical, geographic or financial. With Boulevard technology, anyone in the world who owns a smartphone can virtually visit a museum or cultural site from anywhere, anytime.
Boulevard's library of VR experiences is quickly expanding. In November 2015, the company released its first experience where users can visit the Wolfson Room of the Courtauld Gallery in London. With recent additions including the British Museum, US Capitol, Library of Congress, and White House, the Boulevard app offers eight experiences for free download. Boulevard continues to expand its relationships with over 40 arts institutions worldwide and uploads new content every 8 to 10 weeks.
​
Reede is emphatic that she is not to trying to replace visits to museums and galleries. Quite the contrary – she says that nothing can substitute for being in front of an actual work of art. With VR and MR (mixed reality), however, museums can more fully realize their mission of sharing their collections with the world. And by partnering with leading museums and cultural sites, Boulevard can give immersive access and revolutionize the way the world looks at art.
17) Christina Heller – Co-Founder and CEO of VR Playhouse
Before Christina Heller started VR Playhouse, she worked in tv and journalism. She's one of the exceptions on this list who made the IMDB's database. She worked the camera and electric, did some cinematography and a whole lot of producing films and TV-shows, most about politics.
VR playhouse is a Los Angeles creative studio specializing in VR and AR. They've produced a lot of really cool projects, like a CGI animated 360 music video Enter the Mind of Jack, a 360 video for Boost Mobile's "Unlimited World" in which you can pause a 360 video at any time and explore the surroundings to get additional information. Other key projects include Defying the Nazis with Ken Burns, and DAWN's "Not Above That" VR music video.
"The Surrogate," was nominated for the Innovation Award at SXSW 2016. It's an amazingly realistic experience, as it combines the elements of CGI VR with 360 video. In most 360 videos, people complain of having that "being stuck" feeling . In this film, movement through space is possible via use of CGI elements.
18) Alisha Seam, robotics engineer
Alisha currently works in startup that's trying to merge new innovative technology with AT&T products and services. She's got a history in robotics engineering, and loves to make technologies that are as automatized as possible.
One of her favourite projects was working with drones. We've all heard about delivery and surveillance drones, but this technologies are new and far from perfect. Alisha and her team were working on optimizing their abilities, by taking advantage of AT&T's LTE network. One of the uses for these drones is also assisting in dangerous situations, where people would usually risk their lives (like natural disasters, fires or war-zones).
She's also really into VR/AR, so a big part of her job is integrating immersive elements into people's everyday lives. Alisha is passionate about using VR beyond gaming, specially in education and training. Her job used to be developing medical robotics. She hopes that one day surgeries could be done remotely, with the surgeon using a robotic equipment and a 360 camera. But even this optimistic technological genius is aware that big advancements have to be made in this field, before anything will be hospital- ready. She also anticipates that AR will eventually replace our computers and smartphones.
Join her for an overview of the latest developments in virtual reality.
19) Angie Smets, Executive producer of Guerilla Games
@AngieSmets This gaming innovator comes from a family that loved experimenting with technology. She's a member of Guerilla Games, an Amsterdam-based video game developing company. She and her team are currently working on new games for Playstation VR.
She says that she loves the feeling of being in a virtual world, where there are no consequences. She's also really happy to say that there are more women in game development than in any other point in history.
20) Rose Troche, VR Filmmaker
Rose Troche was a writer and producer for the L world, and she never stopped trying to portray the world through queer eyes. She created "Perspective", which is a story or a sexual attack shot in 360. The story was shot from two perspectives, so viewers can immerse themselves in both the victim and the attacker. It shows how signals can be wrongly interpreted, how alcohol clouds judgment and what horrible things are seemingly normal people capable of doing. Her opinion is that VR is special, because it's happening right now. (Western) women are emancipated enough that they can cooperate from the start. She says: "There hasn't been a moment where women can jump in and be experts at the same time that men are."
21) Janicza Bravo, the Activist and VR filmmaker
Have you been sceptical of VR when you first heard of it? So was Janicza Bravo. She initially turned down a VR project, because she felt that it was a technology that distances the viewer and she wasn't really sure about the technical side of things. But as soon as she tried it out, she knew that it was the place to be. She created "Hard World for Small Things, a film about police violence. What she loves about VR is that it engages a lot more of your senses than a traditional theater experience.
22) Kamal Sinclair, director of Sundance Institute's New Frontier Labs
@KamalSinclair Kamal Sinclair has to convince skeptics everyday that VR is absolutely worth your attention. She is aware that that's the case with every new technology and she thinks it's a normal process. One of her goals is that every voice gets heard, especially that of women.
Sinclair leads the New Frontier Story Lab, a week-long groundbreaking cinematic new media program that takes place at the Sundance Resort in Utah. The program focuses on empowering creatives at the forefront of innovation in entertainment and storytelling by providing them with guidance from a team of experienced creative advisers. Past participants include Roger Ross Williams, Yung Jake, Chris Milk, Cory McAbee, Navid and Vassiliki Khonsari, Karim Ben Khelifa, Tracy Fullerton and Lucas Peterson.
Check out her blog post.
23) Shari Frilot, Chief Curator, New Frontier at the Sundance Film Festival
@ShariFrilot Shari Frilot was the curator who is responsible for de la Peña's "Hunger," one of the many VR experiences making it to the Sundance Film Festival in 2012. She said that the experience de la Peña created was unbelievable. People were prepared to stand in lines without complaining to face the scenes she portrayed. Some viewers experienced emotions that were so strong, that their legs couldn't support them anymore and they fell on their knees.
Frilot thinks that women will continue to be welcome in VR. She says that the good thing about VR is that it's different from everything we know She states that women have to be a part of it, because they are keen on taking risks.
24) Maureen Fan, CEO of Baobab Studios
@maureen_fan Farmville? Ring a bell? You must have heard of it. If you haven't played it, that annoying FB friend surely sent you about a hundred notifications a day about free virtual carrots. Well, you can thank Maureen Fan for that, because she's the one who oversaw the development of Farmville. She also worked on Toy Story 3 and that's when she decided she'll try being an animator full time.
​
She merged her love of VR with her passion for animation and launched Baobab Studios. Their first short film "Invasion!" was a huge hit, and people would wait four hours in line to see it. She encourages women to join the industry, and hopes it will stay women-friendly.
25) Kathleen Lingo, Op-Docs Series Producer and Curator
@KLL5 In 2015, The New York Times launched NYT VR, its virtual reality initiative that puts users at the center of Times stories in an immersive virtual reality experience.
​
As part of the NYT VR initiative, Kathleen Lingo, commissioning editor of Opinion video, is helping to bring virtual reality films to The New York Times Opinion section. The eight VR films published by Opinion so far show viewers how virtual reality can extend the reach of Opinion journalism beyond words and video to the immersive 360 storytelling space that is VR.
26) Rachel Rossin, Visual Artist working with VR
Life is hard for women in art. We have about 30.000 years of art history, and women artists have been taken seriously only in the 20h century.
Rachel Rossin is fighting hard in the art world, merging her canvas paintings with VR installations. In her installation Lossy, Rossin places a VR headset in the middle of the gallery room. There are paintings on the walls, on which smudged, distorted, and impossible environments are portrayed. When the viewer puts on the headset, he is transformed into a world, where those places exist, creating a tension and contrast between what's real and what isn't.
She's working on a new project in VR. It will be a journey through space and time kind of piece. As the viewer will move across the room, an explosion takes place, but will stay frozen if they stay still.
"I remember seeing those big million-dollar systems at the mall, but they were just theme-park rides. I was like, 'Oh yeah, fuck yeah, let's do this.' But it obviously wasn't attainable at the time. Smartphone technology is the reason we have VR today."
27) Tricia Clarke-Stone, CEO and co-founder of Narrative
@Tricia002Narrative is an agency offering creative, technical and innovative solutions to tell stories. They've worked with big brands like UnderArmour, JCPenney and even Universal Pictures.
​
She loves to play around in Narrative's innovation studio, constantly exploring new ideas and techniques that insure her to stay ahead of the game. What she loves about VR is another dimension that it brings to the story.
To find out her thoughts on leadership, teamwork and some advice, read this NY Times interview.
28) Gunita Kulikovska, founder and CEO of Vividly
@gunitaKU With the VR tool Vividly, designers and architects can now see their designs sooner than ever. Gunita Kulikovska, also a TEDx speaker, is still very passionate about architecture. In an interview for Women in VR website, she said: " Architecture is such a beautiful art, it is driven by explicit synergy between form, function and well being. However, a lot of its beauty is hidden in architects' vision, in his mind or pile of sketches that only architects can understand." Vividly is trying to improve the way artists communicate their ideas and to establish VR as a real tool, and not just an expensive toy. The medium is great for raising funds, convincing customers and to have more control over your own projects.
​
Kulikovska has definitely put herself on the map, as she was one of the Forbes 30 under 30 talents in 2016 in Latvia. Archipreneur has also given her praise, as she was proclaimed one of seven most inspiring female entrepreneurs in field of architecture.
29) Dr. Mari Carmen Gil Ortega – Senior Lecturer, University of the West of England
You know how most people think VR is mainly for gaming? Well – turns out it may revolutionise our education. Things are rapidly changing, and now there are many different VR courses available. Dr. Gil Ortega's for example; she teaches Virtual Worlds, where she uses VR to improve students' linguistic skills. Her background is in languages and linguistics, and she taught higher level Spanish for a while. As a part of her doctorate, she was researching problems international students were having learning new languages. Here is where she discovered her passion for using computers to enhance learning.
​
When she started using VR as a part of her language course, she immediately saw results. Immersing students into virtual environments not only rapidly improved their fluency in the language by talking to native speakers, but also boosted their confidence and expanded their knowledge of other cultures.
30) Anna Lee – Adult Entertainment Producer and Director
We always seem to tiptoe around the topic of VR porn. It feels a little embarrassing that one of the best markets for our futuristic VR technology lies in satisfying our most primal needs. But we shouldn't be ashamed, it's only human nature after all.
Anna Lee would probably agree. How does a woman become a porn director, when porn is such a male dominated area? Well – when she realized her student loans are piling up, she didn't hesitate to create a phone-sex company. She hired some friends she met in acting class, and soon they were making what they called "hooker money without actually being hookers".
Later, she started developing VR porn. They've been one of the pioneering companies in this field. They scanned a famous adult actress and made a 3D model based on her. The viewer could interact with it using a headset. They've developed a whole VR world. In it, you can do anything from having sex with a virtual model, to taking them on a dinner or dancing. The company took the project to AVN awards, and got lots of positive feedback, but also requests for live action in 360 video.
So they got the equipment necessary, and started doing 360 VR porn videos. Lee says that filming in 360 is completely different than using traditional cameras. With them, you are always searching for the best frame or angle, but in 360, the most important thing is how the situation makes the viewer feel. She's trying to achieve an illusion of intimacy in her videos, but there are a lot of other angles worth exploring.
​
Also – her opinion is that VR porn is not likely to make traditional 2D porn obsolete. It will just create another market.
31) Ela Darling – VR Live Broadcasting Pioneer
@ElaDarling So, while we're on the subject of VR porn, have you ever heard of Ela Darling? She's one of the first porn actresses that started doing it. She started doing porn in 2009, and by 2014 she already founded Vrtube.xxx. In 2016, she launched Cam4VR (also NSFW).
​
She got the idea for doing VR porn by being exposed by Virtual Reality. The technology wasn't as accessible as today, and she didn't quite know where to start. Luckily, she got the help she needed from two college computer geeks. They equipped her with a 180 camera, which was basically just two GoPros stuck together with duct tape and attached to the wall. Some time later, she decided to get into 360, and had a lot of technical difficulties. She used 12 cameras, that were glitching constantly. Sometimes the majority of the footage would be useless, because they weren't synced up properly. Next, she and her team tried to create a complete VR experience by scanning the body of the performer in space and putting the scans into digital environment. That gave the viewer the chance to move around in virtual space, but the scans looked unrealistic in places. This kept breaking the illusion, and the team realized this technology wasn't quite there yet. From there, they developed a dating simulator, which was an incredible success. The experience was incredibly immersive, and the viewers felt like they were really talking to the performer.
Darling is also a big advocate for adult entertainers' rights. She hopes that VR will give girls who want to succeed in porn a chance to be more independent.
​
She wants to give adult performers access to new technology and platforms to expand their brand and succeed in this new space.
32) Jenna Pirog – NYT VR Editor
@jennapirog We have already mentioned The Times' VR initiative when we talked about Kathleen Lingo above. To recap – they've sent Google Cardboard VR glasses to their readers, and gave them access to 360 immersive videos via their VR app.
Jenna Pirog is The Times' VR editor and producer of 12 extraordinary VR projects. Her most famous 360 film, ''The Displaced'', won the first prize for Innovative Storytelling (World Press Photo) and the Cannes Lions Grand Prix in the Entertainment category. It was also nominated for an Emmy in the New Approaches to Current News Coverage category.
​
This short documentary film focuses on three children and their families, who were all forced to leave their homes (in Lebanon, South Sudan and Ukraine) due to wars. Read more about ''The Displaced''.
She says that shooting a VR documentary is a whole different project than a usual film. One of the many challenges is that you can never know in which direction the viewer will be looking, so you have to nail the placing of the cameras. What's more, she had a hard time planning the project, because she had to find the right subjects to film. She also couldn't use any of the standard storyboarding techniques, and had to study the kids' routines before she knew exactly what she wanted to film.
33) Sarah Hill – StoryUp
@SarahMidMo National Edward R. Murrow, NAB Service to America and 12 time mid-America Emmy award-winning Storyteller. Sarah is the CEO & Chief Storyteller for StoryUP VR, an immersive media company. Sarah holds a provisional patent on immersive story for VR therapy. An alum of the Missouri School of Journalism and former adjunct faculty, Sarah's reporting has taken her team around the globe capturing VR stories about the human spirit in the Amazon, UAE, Congo, Haiti and Zambia.
Sarah is fascinated with what she calls "Human Media", or the evolution of communication to a three-dimensional world. Virtual and mixed realities are two mediums in which Sarah likes to create. StoryUP's roots are in virtual travel for Veterans. In 2015, Sarah built a program called "Honor Everywhere", that uses Virtual Reality to allow aging World War II Veterans the opportunity to see their WWII memorial. Sarah is a former interactive news anchor for the NBC & CBS affiliates in mid-Missouri.
Her team at KOMU-TV pioneered the use of multi-way video chat during a newscast. She's covered the aftermath of the 2004 Tsunami in Sri Lanka and Indonesia and produced documentaries in Vietnam and Guatemala on the world's mobility problem. Most recently, her team produced VR documentaries from the Amazon and eastern Congo about energy poverty. StoryUP creates content at the intersection of Journalism and Neuroscience.You can read StoryUP's case studies about immersive media and its impact on brain wave patterns for empathy, motivation and mindfulness here:
http://www.storyup.com/ Let's StoryUP!
34) Samantha Kingston – CoFounder of Virtual Umbrella
@K_Samantha1 When Samantha Kingston went for her first VR related job interview, she wasn't really sure if she was interested in it. But as soon as she saw the demo, she was hooked by the possibility of tech.
She started her own business and co-funded Virtual Umbrella. It's a marketing agency that focuses on VR. They recently ran the biggest VR event in history in London (February 2016) – the VRUK Festival. Virtual Umbrella loves to bring the UK community together. The company also works across sectors from gaming, engineering, education, healthcare and more. Making sure the VR content is made right and created for the right reasons.
She didn't know that sexism was a problem in VR industry, but learned all about it in first person pretty soon. She doesn't let it get her down though, and responds to it quickly.
​
She's a big supporter of women in VR, but doesn't let that cloud her judgement when hiring staff. The only thing she's interested in is talent and whether the person is good at what they do. Samantha has built her company up on passion and honesty, she is always happy to help.
35) Camille Kanengiser – Co-Founder and CCO of Freeform Labs
After studying Animation at USC, Camille Kanengiser co-founded Freeform Labs, a company that develops family-friendly, creativity-focused content for VR/AR. She has spoken on a variety of panels, covering topics ranging from the technical challenges of building compelling user experiences, to the importance of diversity and equality within the industry.
The company is still very much in start-up mode, but they've already signed a $750,000 deal with the Swedish publisher Starbreeze Studios.
They're currently working on ElemenTerra, a game in which you are a nature spirit with the power to shape worlds. The project has already won multiple recognitions, and we are eagerly waiting for its final version!
Tech world is dominated by men and smart innovative women like these ones here rarely have the chance to be exposed. With this article, we wanted to spot the light at one of the most creative, hard-working ladies out there in the industry of immersive technologies. There are hundreds of more smart minds out there and we are sorry if we left some out.