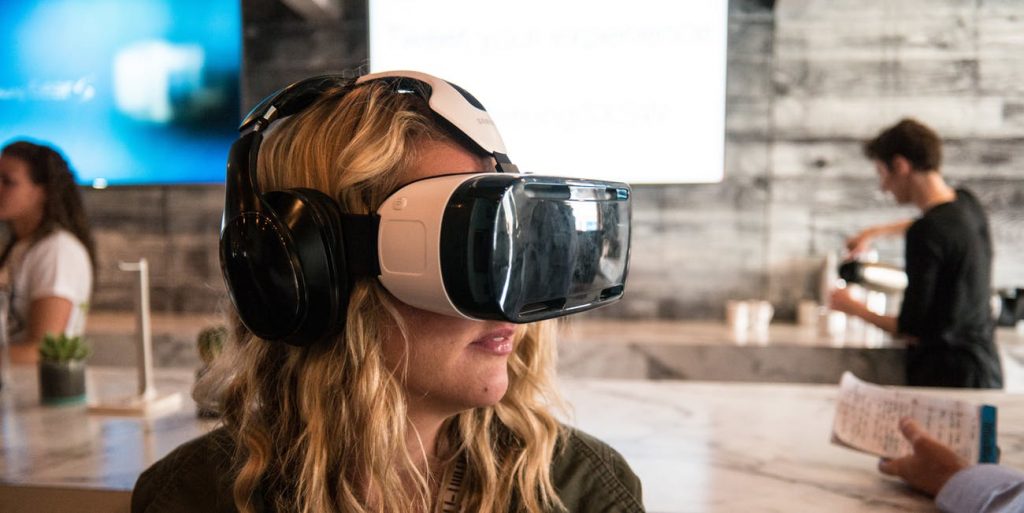 The Virtual Reality train is accelerating and if you haven't caught the bug yet, you'll miss out on a lot of cool things. The industry is gaining so much momentum it's impossible to neglect the possibilities. Now that billion-dollar-headsets hit the market you have no excuses to scratch the VR curiosity itch.
When we've first done the research about the major players in Virtual Reality, we've found the expected bunch of heavy hits – the Palmer Luckeys and Tony Parisis of VR. So we've made a men only list. What a mistake! However, since then we've started researching deeper, and a lot of female names have been popping out. Actually, because media is so inclined to boast male creations, the ink is drained when they get to women.
Because AR and VR is such a young technology, women have been able to participate in it from the start. There are a lot of activists and organizations that support and encourage women to join the VR circles, for example the Women in VR platform.  Jacki Morie, a VR scientist at NASA, has researched the creative VR experiences between 1985 and 2007 where as much as 70 % of those creators were women.
​
So here is a list (in no particular order) of some of the most innovative, creative and capable people alive! We sincerely apologize is we left anyone out. Be assured – there is so much talent out there that we are bound to create another list soon!
---
Bring VR training to your organization and start a free trial of Viar360 today!
---
1)
Liv Erickson – VR/AR developer evangelist at High Fidelity
2) Helen Situ – Product Marketing at NextVR and Creator of Virtual Reality Pop
3) Jacki Morie, PhD –  Owner/CEO at All These Worlds (NASA)
4) Christine Cattano – Co-founder and Global Head of VR, Executive Producer at Framestore VR Studio
5) Dr. Helen Papagiannis – Augmented Reality Specialist
6) Nonny de la Peña – VR journalist and CEO of Emblematic
7) Suzanne Leibrick – VR Storyteller, Co-founder of ARVR Academy, VR Artist
8) Maria Korolov –  Freelance Technology Writer, Editor and Publisher at Hypergrid Business
9) Crista Lopes – Professor of Informatics, OpenSimulator core developer, founder of Encitra
10)  Yuka Kojima – game developer, CEO at Fove Inc.
11) Jeri Ellsworth – AR Game Development and Co-founder of CastAR
12) Timoni West | Principal designer at Unity Labs
13) Paisley Smith –  VR filmmaker and Co-founder of VirtualRealityGirls
14) Eva Hoerth – VR Evangelist, founder of We Make Realities
and much more
15) Jenn Duong –  Director of VR at 1215creative, co-founder of SH//FT
16) Elizabeth L. Reede –  Co-founder and CEO of Boulevard
17) Christina Heller – Co-Founder and CEO of VR Playhouse
18) Alisha Seam, robotics engineer
19) Angie Smets, Executive producer of Guerilla Games
20) Rose Troche, VR Filmmaker
21) Janicza Bravo, the Activist and VR filmmaker
22) Kamal Sinclair, director of Sundance Institute's New Frontier Labs
23) Shari Frilot,
Chief Curator, New Frontier at the Sundance  Film Festival
24) Maureen Fan, CEO of Baobab Studios
25) Kathleen Lingo, Op-Docs Series Producer and Curator
26) Rachel Rossin, Visual Artist working with VR
27) Tricia Clarke-Stone,  CEO and co-founder of Narrative
28) Gunita Kulikovska, founder and CEO of Vividly
29) Dr. Mari Carmen Gil Ortega – Senior Lecturer, University of the West of England
30) Anna Lee – Adult Entertainment Producer and Director
31) Ela Darling – VR Live Broadcasting Pioneer
Darling is also a big advocate for adult entertainers' rights. She hopes that VR will give girls who want to succeed in porn a chance to be more independent.
​
She wants to give adult performers access to new technology and platforms to expand their brand and succeed in this new space.
32) Jenna Pirog –  NYT VR Editor
33) Sarah Hill – StoryUp
34) Samantha Kingston – CoFounder of Virtual Umbrella
35) Camille Kanengiser – Co-Founder and CCO of Freeform Labs