Virtual Reality (VR) has taken the world by storm by offering new and innovative ways to engage with employees. Business executives realized the potential of this technology to enhance learning and development initiatives for a workforce. Virtual reality training is definitely here to say and it will only grow bigger.
So what is virtual reality training?
Virtual Reality Training is the digital simulation of lifelike scenarios. Trainees enter a 360° active learning environment, experiencing sights and sounds that dissolve the barrier between virtual and actual reality. Using the headset and controllers, trainees look, speak, and move about freely in a 3D virtual setting, interacting with simulated real-world tools, machinery, and other trainees and instructors. Critically, with virtual reality, workplace scenarios that were once too difficult, expensive, or dangerous to train for, become vastly more practical, cost-effective, and safe in an immersive simulation.
Which industries use virtual reality training the most?
Healthcare
In the healthcare sector, VR presents huge opportunities. In a hospital setting, VR technology is being used to teach med students how to break the bad news to patients and their families. By using VR, students can learn efficient empathetic communication skills and discover how to interpret verbal and nonverbal cues from characters in a scenario, and respond with the most appropriate strategy. There are many more use cases for using VR in healthcare.
Retail
In such a competitive sector it's key to use all digital technologies to your advantage. Walmart is using VR to train its employees in management and customer service. Using VR headsets, staff are trained in 360-degree video-based technology that includes on-screen cues that will prompt staff to make decisions based on real-world situations such as how to deal with Black Friday rush or customer service scenarios.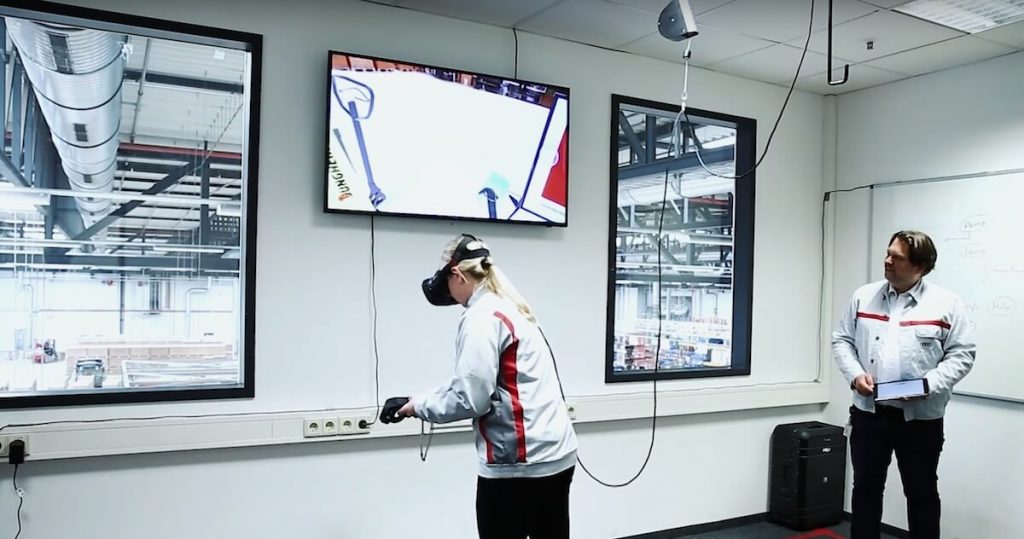 Manufacturing
Manufacturing is yet another industry where one wrong move can have dire consequences. For example, an employee who isn't familiar with machine controls might accidentally injure themselves or a co-worker while performing their job duties. Virtual Reality training offers them the chance to master the system and create an efficient routine for operating the equipment. Instructors can also monitor their performance and remedy any issues promptly, which helps to prevent on-the-job fatalities and avoid compliance violations.
Law enforcement
Law enforcement employees must be ready for anything. When the calls come in, they are the first responders who have to assess the situation and safeguard lives. Virtual reality simulations help them gain real-world experience in a safe setting. They can learn how to read a suspect's body language during an interrogation or how to securely disarm an assailant. Police officers don't have to deal with a steep learning curve because virtual reality immerses them in situations they will commonly encounter in the field. Read more about why VR is a great fit for first responders in this blog post.
The final word on virtual reality training
Keep in mind that these are just a few industries that can benefit from Virtual Reality training. However, this technology can be used in virtually every niche, thanks to its versatility. There are many ways that you can use VR to enhance your online training initiatives. VR can help you fill performance gaps, build skills, and impart product knowledge more effectively. And all of this has gotten even easier with Viar360 – the most intuitive 360 VR authoring platform.