Introducing engaging and effective training programs is at the heart of any learning & development strategy, especially for businesses who are committed to developing the potential of their employees, as well as improving skills and productivity levels. If you are using virtual reality technology to create VR training scenarios here are some tips to prepare yourself for success.
Determining whether VR training is right for you
VR training is not the perfect modality for every training scenario. It's essential to determine whether your use case will enhance the learning experience through virtual reality. VR training typically takes 8–10 weeks or more to develop. In some cases, VR training can be developed in as little as 4 weeks or can take as long as 6 months or more. Ask yourself the following questions to see if your particular use case could be a good fit for VR training:
How much time do you have to develop training?
What is your training budget?
Is your audience experienced with VR technology?
Are there any VR use cases in your industry you can already follow?
Does your training topic align with VR's capabilities?
Are physical environment and equipment important for your training?
Are you trying to train the audience on a certain procedure or is it more about abstract general knowledge?
Once you have clear answers to these questions it will be a lot easier for you to decide if VR is the right way to go for you.
Setting goals for your VR training scenarios
What do you want your employees to learn and how do you want this to have a positive effect on their workplace performance? And how do you see this impacting overall business productivity? Identifying the current working practices as a baseline and the measurable learning outcomes you want to achieve will give you a framework for measuring the effectiveness of your VR training program. Focus on these three areas:
Business goals – It's important to determine what your end goal for training is as it pertains to your business and productivity goals. What problem are you trying to solve? This will not only help guide your training but will also assist in growing stakeholder buy-in.
Learning outcomes – A learning outcome is a statement defining what knowledge or skill a trainee should acquire after completing a training scenario. By the end of the VR training program, what do you need your employees to be able to do?
Key performance indicators – Key performance indicators (KPIs) describe specific expectations for a task. These are used to determine whether a trainee has succeeded in a given task. For each task in your VR training scenario, what does the trainee need to accomplish?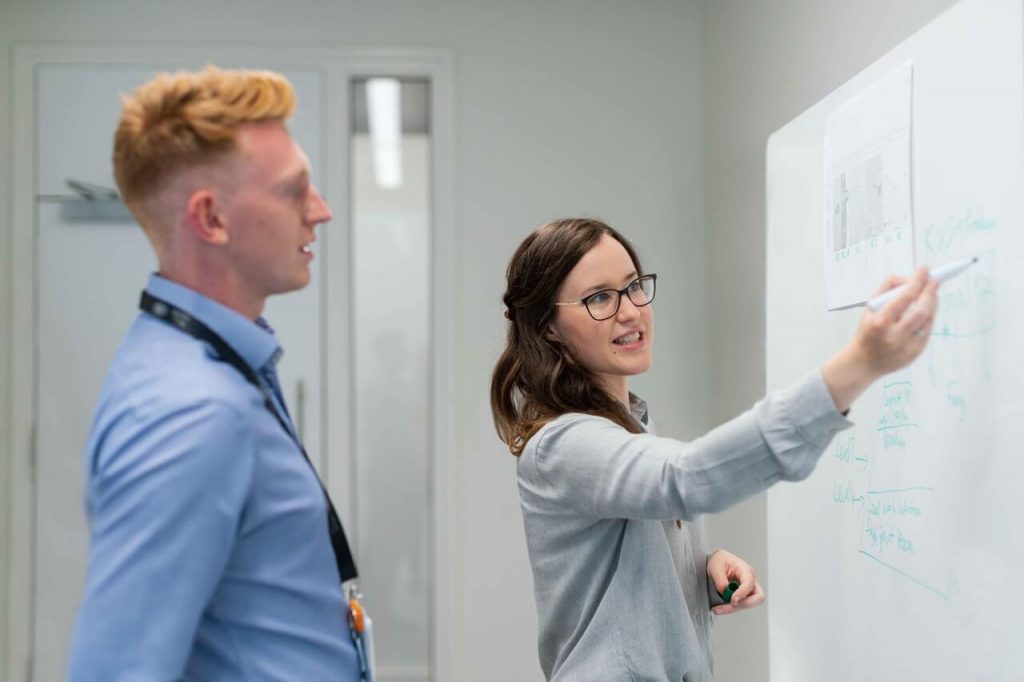 What data will you be tracking in your VR experiences
After setting training goals, you will need to determine how you will measure and track your training metrics. Specifically, you must decide what it looks like to achieve success on the performance indicators you have outlined and how that data will be stored, tracked, and displayed. It is very important you decided on these metrics before you start authoring your content. They will affect how your build your VR training scenarios.
Using session feedback to improve your VR training scenarios
Careful planning for assessment can help in generating meaningful results and in turn, meaningful feedback for your learners. Creating both a guided and an unguided version of your training will be meaningful when testing whether employees are ready for work. Trainees should experience a "teach mode" first where they can learn the steps needed to produce successful outcomes. After multiple repetitions, they can attempt a "test mode" to see if they can complete the task without help. When your first batch of trainees goes through this it is important that you collect as much feedback as possible.