The idea of introducing such high-end tech as Virtual Reality to universities and corporate learning centers is double-sided. The progress is unstoppable, and the benefits of such a technology are countless for educational and other purposes. However, many schools are skeptical of such advances, let alone being able to afford them. The COVID situation and distance learning is changing things though.
Uses of Virtual Reality tech in distance learning and corporate education
While both sides are heard, it's still important to see where the industry can become better. Especially given the problems educational establishments have with distance learning.
If poor attendance and lack of result improvement of student interest sound familiar, maybe it's time to learn about the uses of VR in education.
Non-interactive teacher-created space for students
The easiest use of VR tech is for a teacher to create a three-dimensional computer space for a class. There's no interaction between the student and the creator or peers. The topic can be anything:
A Math class with rules on the board;
A History class with a museum-like layout and necessary facts nearby;
An Arts class in an art gallery with the pictures and assignments about them, etc.;
A Foreign Language class with rules and vocabulary with words and objects.
The uses are plenty, and tools like Viar360 will help you create the first 360-degree tour.
It's important to realize that if a school or corporate learning center and its students are equipped and the words "create a 3D computer space" sound daunting, it's not the best idea. First, such an establishment should get familiar with the technology, develop proper skills, and purchase equipment.
In this article, the emphasis is made on the schools that aren't new to the world of VR.
With this in mind, let's cover two more potential uses of Virtual Reality.
Teacher-created interactive experience for distance learning
With Google Tour Creator and additional software, it's possible to create experiences with additional data like audio, video, teacher advice and insight, etc. The difference of this approach is that students are able to explore the VR space, not only look in every direction.
This can become a substitution for an hour-long lecture at the university or company introduction if it's corporate learning. The development of such a space might be a difficult task for a teacher. However, there are multiple businesses schools can outsource the task to.
Teacher-created interactive space for multiple students
This is the most complicated and the most exciting use of Virtual Reality technology in education.
Mozilla Hubs is an incredible example of a platform that gives teachers an opportunity to create such a space. There, students can not only learn and explore but interact as well. And again, if the task is too much, there are specialists who will gladly do it for you. However, services similar to Mozilla Hubs don't require the creator to have special skills or tech. A similar group experience is also possible with Viar360 Rooms.
An interactive space where students and teachers can communicate in real time is amazing for several reasons:
Due to quarantine, many people don't go out much, which affects them socially. A VR space where they can hang out and learn will help to work on the negative effects of lockdowns;
In corporate learning, such experience will help colleagues and future employees to get to know one another. It can be a form of team-building, which is crucial for the team's success in the future;
Learning in such a way is much more interesting and exciting;
Practice with VR equipment makes students familiar with the technology, which is and will be crucial in the new post-COVID world.
Classroom organization and the efficiency of lessons will elevate rapidly.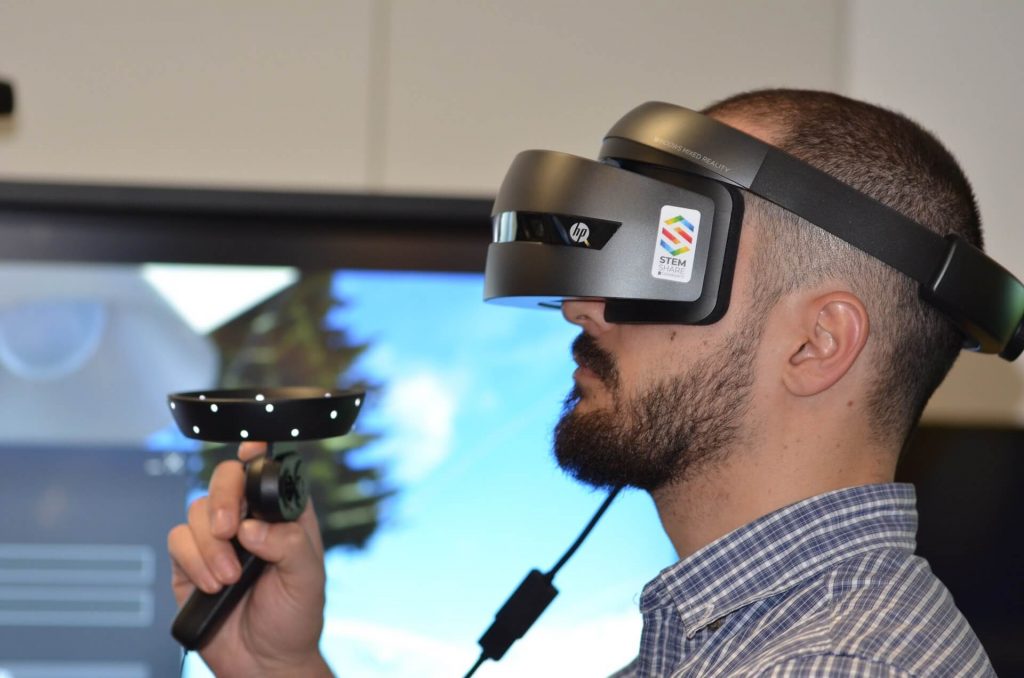 VR Teacher/Corporate Space
Lesson planning and other topics can be discussed in a virtual space as well. This will help teachers and other specialists share notes, create plans together, and see results in real time.
This can be done in a Zoom call and a shared Google Docs document, but there might be inconsistencies, time delays, etc. Creating a room with all necessary materials and space to discuss will lead to more efficient results.
Is VR worth it in distance learning?
With Zoom calls, people still can have that feeling of social communication. It's a great piece of software that makes distance learning possible. However, VR gives much more benefits, including getting familiar with high-end tech and more curiosity about the discussed subject.
Whether the technology is worth it or not depends on:
Educational establishment;
Location;
Budget;
Needs.
While it's clearly better to learn using VR, not every school has a budget to accommodate such an investment. Every student will need VR glasses as well, which may highlight income inequality and cause problems.
Plus, the majority of schools, unfortunately, are still not familiar with such technology. Incorporating it into the curriculum will need a lot of work, learning for teachers, etc. Hopefully, the situation will improve and this pandemic will show more people that technological advances are the only way to go through this time.
A new life of the education industry during COVID-19
COVID-19 has brought dramatic changes to every aspect of human life, especially education. The new techniques, incorporation of VR and other high-end technologies, changes in curriculum, and a new life for every EDU site.
These websites are even considered the "holy grail of boosting search engine optimization", according to thefoxmagazine.com. So, if the industry is changing and evolving so rapidly, it's clear that technology like VR should become at least a topic of discussion.
The final thought on VR in distance learning
Virtual Reality is getting more and more attention in various industries, from education to construction. And it's happening for a reason because if we can't interact and visit physical places due to quarantine, doing so in VR brings convenience. In future months and years, we will see accelerated use of virtual reality.