Marketing campaigns take many forms and styles, yet they all have one characteristic in common. They grab the attention of the public and provide them with something they have never experienced before. Evidently, technology plays a significant role here. It not only aids in the creation of content for marketing strategies but also in its delivery to users.
VR is an ideal assistant for this assignment. Even though it has long been connected with gameplay and leisure, it has numerous uses in other sectors. We will discuss the role of virtual reality websites in marketing and how to use virtual reality in your marketing plan.
Definition of Virtual Reality in Marketing
Virtual reality in business is a marketing technique that integrates virtual reality technology into advertising campaigns. It can help you establish relationships with your target market and increase interaction with your company. Rather than studying content displayed on the screen, customers can engage with a virtual character.
Virtual reality websites provide significant possibilities for companies. For instance, they are free to advertise their products, boost revenue, and improve customer commitment and engagement. It also generates a realistic and thrilling simulation of a situation that engages different senses. In general, it is accessible through VR headsets or apps.
Why Is It Worth Using Virtual Reality Websites?
Using Virtual Reality in Marketing to Spread Your Message Through Storytelling.
Conventional storytelling forms of media such as film and TV are excellent. However, virtual reality websites take storytelling to a new level. Business owners can use VR to show more appealing brand stories and advertise their answers to problems.
You can also use VR to generate innovative interactions. They will allow customers to see your firm in a brand-new light. For instance, you can use it to give clients a personal tour of your establishment, providing them with its authentic look.
Increasing the Number of Incredible Experiences.
VR allows customers to envision your items more accurately and understand how they can reap benefits from them. Besides viewing samples, customers can use it to unlock an online realm that you have created. So, you are free to demonstrate what you have to provide in real-time and how it may be a remedy for their concerns.
Making Advertising More Enjoyable.
Traditional advertisements can turn out to be tedious. They do not end up creating unforgettable experiences. In addition to this, something like pop-ups can feel repetitive and turn off prospective consumers.
The possibilities of virtual reality in business have yet to be fully realized. Anyway, you can still use the technology to provide improved experiences for your intended audience.
Putting Your Products on Display in the Best Possible Light.
How can you make prospective buyers believe that your assortment is the greatest fit for their necessities? As you can understand, VR turns out to be the answer again. It is a powerful tool that can produce immediate benefits.
It allows enterprises to differentiate themselves from the competitors in the market and implement the newest advancements. Businesses can stay in the spotlight in the face of new advancements in technology by using VR earlier than others.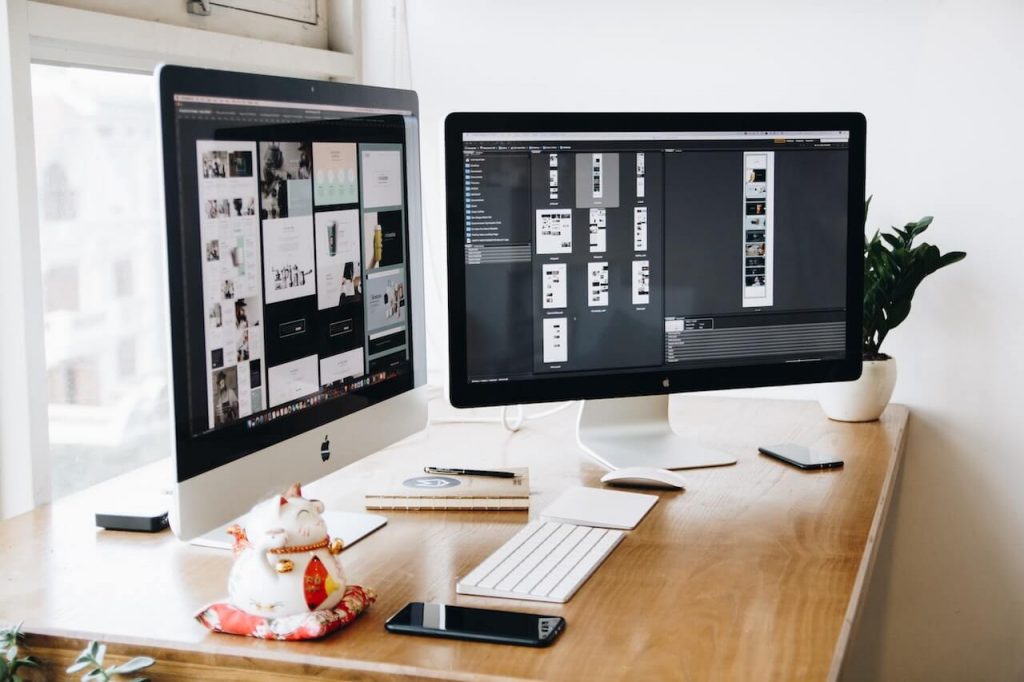 What Spheres Require Virtual Reality Websites?
The adoption of virtual reality in various sectors has its key points. VR strengthens the emotional impact on the target market and assists to convey the statement.
Real Estate
The issue with promoting real estate items is that they are static. A mansion, a loft, or an apartment is always in the same spot. So, one must physically visit the area to observe it.
Virtual tours provide more promotional strategies than conventional marketing on TV and in print media. In this case, there is no need to think about how much virtual reality costs. Both a real estate agent and clients save a considerable amount of money and time. Furthermore, VR advertising is an excellent instrument for commercializing unfinished residences.
Retailers
These days, home decoration, interiors, car, and apparel sellers have been getting creative with VR technology. They provide the following interactions:
virtual locations;
VR test drives;
and VR try-on.
Virtual reality in business is expanding into traditional shopping malls. So, customers can look through products virtually and get something that reminds them of a trip to an actual shopping center.
Tools to Make Virtual Reality Possible
Viar 360
Viar360 is the most user-friendly immersive VR authoring and publishing platform focused on 360 videos and images. Using it, you are free to use 360° video content in a highly natural way. It will be possible to create compelling immersive training scenarios with advanced learning elements and evaluate trainee performance. What is more, you can organize group sessions in which the trainer can guide trainees through training scenarios and respond to any possible questions.
Unity 3D
It is a tool for creating virtual reality environments that are convenient for both experts and newbies. Its prominence and user-friendly interface make it simple to understand how everything works. An extensive library of 2D and 3D resources saves time and effort when creating new characters and scenery.
Unreal Engine
For most specialists, it is the favored SDK for developing games and VR simulation models. Strong graphics with sophisticated and accurate functionalities are provided. It also has a dependable asset store with:
animations;
plugins;
live training;
and blueprints.
You can use all of them to construct your VR environment.
Remember that you can always turn to virtual reality website templates. For example, there is a wide range of ready-made solutions provided by TemplateMonster Digital Marketplace.
A Few Words in Conclusion
The times have changed, and so have technological advancements. So, there is no better opportunity than now to begin utilizing VR technologies if you want to stay ahead of the curve. By combining marketing agency website templates and virtual reality, you can come up with something unique and impressive. Thanks for reading!