Many say Virtual Reality (VR) is a cutting-edge solution that enhances people. It improves medical training, which would be helpful for doctors who can practice procedures before performing them on actual patients. It allows simulations of space trips and crafting complex machines in Silicon Valley. But now, it nears even closer to us, to the way we learn. This article will consider VR as a new way of teaching. Let's dive into that!
What is VR?
Virtual Reality is an immersive, computer-generated environment that can be experienced through special electronic devices or head-mounted displays. The technology allows users to interact with and manipulate objects in a simulated environment. As a result, the user feels like he is actually inside the virtual world, making it much easier for him to learn about it.
How can we use VR when teaching
View from a new perspective?
With the help of Virtual Reality, professors can bring the classroom to life with interactive activities and immersive experiences for all learners. The writing service, Topessaywriting, highlights that VR allows the creation of interactive lessons that are engaging and full of examples for students to learn from.
For example, instead of reading about the human body in a book, students can use virtual reality goggles for touring through it. Similarly, rather than simply reading about a foreign city or country online, they can have first-hand experience with them in VR.
With VR, teachers can bring examples of different ecosystems, planets, or historical events into the classroom without physically leaving it. They can also explore microscopic elements such as cells and atoms or delve into outer space without advanced specialized equipment! The possibilities are endless.
Hands-on experience
Instructors can give their students a hands-on approach to learning by allowing them to explore digital landscapes and participate in simulated experiments. Because of the interactive nature of Virtual Reality, it has the potential to provide a more meaningful observation than traditional methods of instruction.
With excellent research from GrabMyEssay, which delivers custom paper writing for various purposes, tutors reveal more to students. It also helps them apply what they have learned to real situations so that they can use their knowledge practically too.
Raise motivation
Moreover, virtual Reality has been proven to improve student motivation and performance due to its immersive qualities. Recent studies have shown that student engagement levels increase when interacting with their environment rather than simply listening or watching lectures. As a result, virtual Reality can help instructors create an engaging learning atmosphere while still delivering quality content.
How to implement Virtual Reality in your educational process?
Implementing Virtual Reality (VR) into the educational process can significantly boost student engagement, interest, and learning outcomes. It's an opportunity to bring your students closer to their lessons than ever before through immersive activities and examples. To get you started on integrating VR into your classroom, we suggest some examples of equipment you may need, as well as steps for implementation below!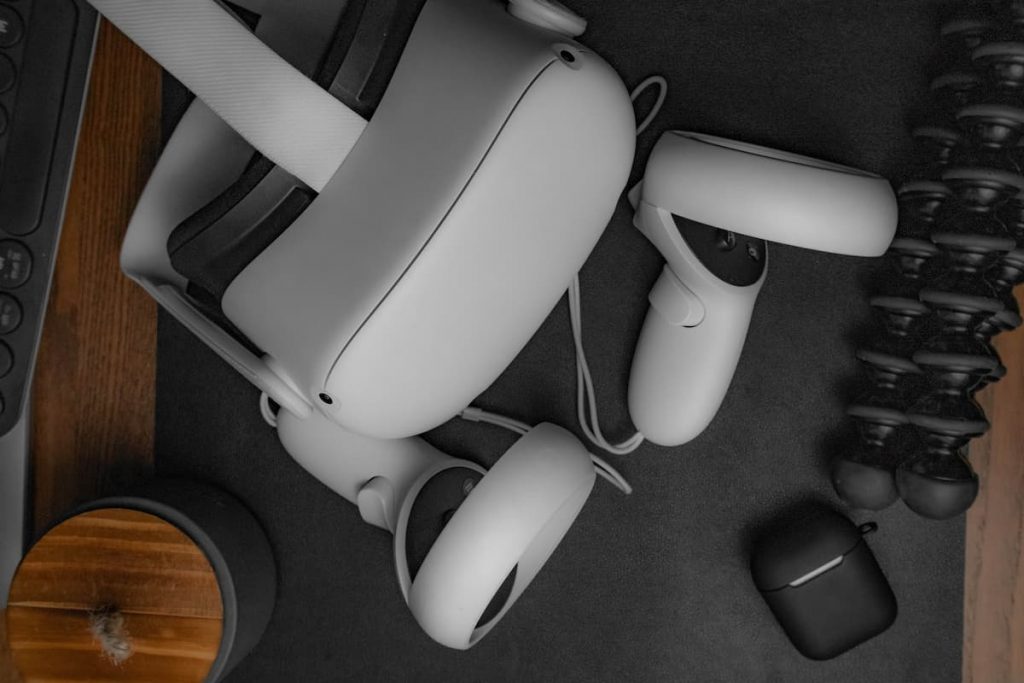 Equipment:
a VR headset – these include Oculus Go or Samsung Gear VR
Controllers – used by the user to interact with virtual objects in the environment, such as pointing or selecting items
Position Tracking Cameras – used in conjunction with the headset and controllers to track movement within the space
Laptops or PCs – depending on the VR experience you want to create.
Steps to start using Virtual Reality:
1. Choose a VR platform and content.
Multiple platforms, such as Google Expeditions, Microsoft Mixed Reality Viewer, and PlayStation VR, are available. Once you've chosen your venue, it's time to decide which content you would like to feature in your classroom.
2. Set up the virtual environment.
Place all equipment in the space according to the instructions provided by the manufacturer and position tracking cameras at two corners of the room to ensure they can monitor movement within that space correctly.
3. Integrate into lesson plans.
Once your equipment is set up, it's time to integrate VR into your lesson plans. You can include examples and activities with which the students can engage, such as exploring different parts of the world through virtual Reality or trying out a specific task in an immersive environment.
4. Guide students through the VR experience.
You'll need to be there to guide your students through their VR experience and ensure they get the most out of it. Be available to answer any questions and provide assistance where necessary.
You can successfully bring Virtual Reality into your educational process by following these steps!
Initiatives to implement VR in the educational process.
Many social initiatives have been created to help empower students to take advantage of what VR offers in learning. Such initiatives can range from providing access to VR hardware and software to offering online training and resources or creating immersive learning experiences tailored to their needs. In addition, you can use the best translation service to get complete information in your native language.
Google's Immersive Learning Initiatives
Google has recently added 3D animals to its AR search results for students and schools looking for affordable options. These 3D models can serve as educational activities or fun. They are accessible for all ages and completely free to use with any smartphone.
For example, you could use the 3D model of a lion for a presentation on African wildlife habitats or have a virtual pet in your classroom. With these new additions, students of all ages can explore the world from their home or school classroom engagingly and interactively.
Virtual Reality Education Initiative
Another social initiative is the Virtual Reality Education Initiative (VREI), which works with schools, museums, and cultural institutions to use VR technology to enhance learning experiences. The VREI's goal is to use VR to make education more accessible, engaging, and interactive for students.
Oculus Education Initiative
Finally, the Oculus Education team works with universities, teachers, and researchers worldwide on projects leveraging virtual reality's power in education. They also offer free virtual reality courses and tutorials, helping to make the technology more accessible for students.
Conclusion
Virtual Reality is exciting to use. It makes learning fun, meaningful, and effective for our students. As educators continue to explore the potential of this new technology, they will find numerous ways to use it in the classroom, providing teachers with a whole new level of creativity when teaching their students. Virtual Reality is undoubtedly here to stay and has the power to revolutionize education as we know it today!